2018 Highlights of the Year
Pure and genuine religion in the sight of God the Father means caring for orphans and widows in their distress and refusing to let the world corrupt you. James 1:27
EDUCATION AND GRADUATIONS:
At the beginning of the year we started something new!
We held a Carpentry class for some of the boys at the Jesus of Nazareth orphanage in Pierre Payen. We felt these boys needed something to have to fall back on when they are old enough to leave the orphanage. Pastor Joel had a dream to start this and so we did. They held school twice a week for five months, starting in January ending in May. Six boys completed the course and graduated.
We also started an adult reading course for some of the women in Pastor Joel's neighborhood. Sister Joel taught the women how to read using the Literacy Evangelism curriculum. Five of them graduated the course in May.
In May we also saw Pastor Joel's three daughters graduate from high school and his youngest son graduate from 8th grade into high school.
Four youth from the Jesus of Nazareth orphanage and Pastor Joel's sons attended a special Business and Technology Youth summit for the first time. This was a good learning experience for all of them.

Every year we assist the orphanages' and families' children with tuitions, uniforms, and curriculum. In the fall trip we brought backpacks and school supplies to distribute to the children.
BIBLE CLUB: We had been assisting a small Bible club run by Chantale Amboise one of our translators. Sister Joel had it in her heart to start a Bible club with the children in her neighborhood so we are now supporting two Bible clubs.
TEAM TIME: We had small but mighty teams this year. Yassi Khairolamour came for 10 days and taught about marine life and the importance of preserving it to all three orphanages. We took each orphanage to the beach for fun and learning.
Pastor Ron Eroen, Jani Eisenhut and Scott Schmeckpeper joined us in the fall. Pastor Ron was asked last minute to preach Sunday morning. He also taught CPR to some of the staff from each of the three orphanages. Jani assisted with the young children at the orphanages and did pretty much anything we needed.
Barbara Gogny "Buzzy" has a passion for teaching and assisted Pastor Joel's three daughters in learning to take the TOEFL tests as they hope to attend an American university in the future.
My dear friend Carol Jaeger joined me in the spring to assist me in taking photos of the children in Kay Ti Moun Yo children's home for our sponsorship program.
MEDICAL ASSISTANCE:
We had a lot of medical needs this year. A couple accidents at Kay Ti Moun Yo had us taking little Woobinski to the clinic for stitches in his foot, and Kerry to the hospital where he needed surgery in his abdominal area.
Kay Ti Moun yo has a few special needs children that need special care, so we took them to the Pierre Payen hospital where specialists from Port au Prince and the US come regularly.
Moise has a severe club foot so we are working with specialists to see what can be done. In the meantime another ministry had seen his need and brought him a walker his size. They have volunteered to pursue more medical assitance for him.
Baby Christie has internal organ issues that needed surgery for a colostomy. We expect more surgery will be needed in the future.
Joidley from Kay Refij was also having chronic ear infections and we discovered that he needed his tonsils out. So he had a tonsilectomy and he is doing fine now.
Paulson has had constant ear infections and other issues. We took him for CT scans and learned that he may need surgery to remove a growth in his right ear.
In the spring one of our families had an earlier than expected arrival. Baby Michael Simon was born six weeks early and as a preemie needed some extra hospital time. Fortunately we were able to assist with the expenses of the hospital and medical needs.
SHUTTLE BUS:
Remember that shuttle bus we purchased? Well it finally made it to Haiti! Scott Schmeckpeper and Steve Denning drove it across the US from California to Florida, where it was delivered to the Monarch Queen Shipping company. It came by ship to Haiti and Pastor Joel was able to pick it up in St Marc. We now have a bus to pick up teams, and a lot of clothing and other supplies that were loaded inside of it.
I set up the patio and one room as a sort of thrift store and brought in each of the directors of the orphanages to "shop" for their children.
CLARITY FILTERS:
We were blessed to be able to aquire 6 complete Clarity water filter systems for our orphanages. Each orphanage has received two working water filter systems so the children can have access to clean drinking water.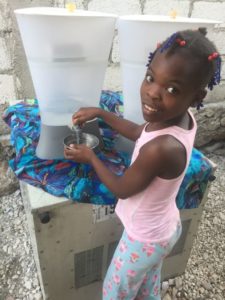 FOOD DELIVERIES:
We continue to deliver Manna Pack nutritious rice meals to the three orphanages and 20 families. We had to cut back on the amount of cases we could pick up due to financial means which meant we had to cut back on the amount of food distributed to families.
As you can see we've had a very busy fulfilling year. None of this would be possible without the generous support from people like you. THANK YOU for helping us care for the widows and orphans in their distress.
"That they may be encouraged in heart and united in love" Colossians 2:2
If you would like to make a donation click here: DONATE