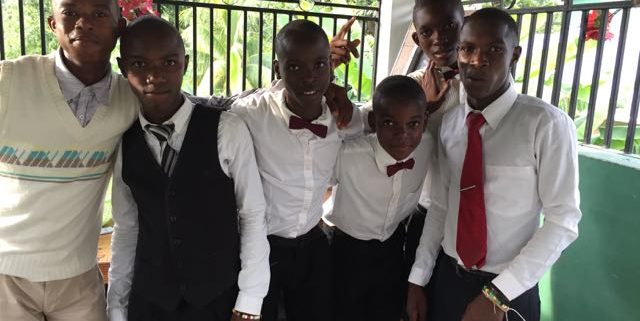 And the adventures are winding down…
Things really have slowed down since Yassi left. Finally school is out for the children so I was able to go through all the uniforms and books for the orphanages. This is what I stayed so late into June for was to see if any uniforms or books could be salvaged. Unfortunately not many.
Mackencia's children were very hard on their books this year! There was literally nothing left to them! I told her I will buy all new books for them, but they are to be covered and the children will be getting a lecture from me on how to take better care of their books!
Their uniforms were not so bad. But I know as soon as they get home from school the uniforms come off and play clothes put on. I went through them with Mackencia and I picked out what needed repair, which was most of them. I hand washed all of them and started to repair them. We will still need new uniforms. But instead of buying two new sets of uniforms we will buy one new set and use the older repaired ones for extras.
Ti Chat of course had to get in on the action. Do you think maybe she wants my attention?
Pastor Joel and I spent the whole day at Pierre Payen orphanage. I went through all their books while Pastor Joel gave the carpentry class their final exams. I'm happy to say they did a little better at taking care of their books, especially the 5th graders and the secondary grades. I will still need to buy a lot of books for next year, but not quite as many.
I went through the uniforms and they did pretty good with them too. But a lot of them are going from the primary grades to the fundamental grades so they will need new uniforms. The boys especially go from wearing shorts to long pants. So I will buy all new uniforms again. Sigh… I still repaired the uniforms that were salvageable so hopefully as the younger ones grow they can use them.
While I sewed, the boys finished their tool box projects. They learned how to turn a 2×2 square post into a rounded dowel. I was impressed at how well they did! They finished their boxes!
Pastor Joel and I took them to the house so Pastor Joel could go over them to grade them. Part of their final grade is the finished tool box. Then we varnished them all for them. Pastor Joel did three boxes to my one. They looked nice when we were done. We let them dry over night and the next day.
One more graduation! We held the Carpentry class graduation at the Pierre Payen orphanage because all the people who care about them are at the orphanage. I had prepared gift bags for each of them with a New Testament Creole Bible, a measuring tape and safety goggles in each bag.
We held the ceremony in their church. It was a very nice ceremony with a couple of the girls singing a song for them. The boys all recited a verse and sang songs.
They each received a report card with their grades for Bible, Lecture phase, Application phase and Project. The highest score was Jean Renel and he received a hammer as a special gift and Jesmy Merius was second highest score and received a set of screw drivers. They each had a tool box to hold their new tools with the promise of more tools when Level 2 Carpentry class ends.
Madam Pastor had prepared a nice meal for all of us. I had bought a cake and we brought drinks on ice. It was a wonderful celebration.
Thursday is always Nurse visiting day at the two smaller orphanages. I went along with Sister Joel to visit them and see how the children are doing. Mackencia's children were all well and didn't need any nursing so I brought out some coloring books and crayons for them to color for some fun.
This Sunday was my last one before going home. I enjoyed worshipping with Pastor Joel's little home church. I will miss them. After church I had an appointment with the missionary vet to take a look at Ti Chat. She traveled well in her little case and did well with the vet. He wormed her and said she was still too young for rabies shots or spaying. So we will do the rest in September when I return.
Our truck was in need of repairs and regular maintenance. I figured Monday would be our one down day. I had some uniforms to finish sewing and needed to talk with a few individuals before leaving so I had people coming and going. The truck repairs took longer than expected… three days!
Then just as the mechanic was returning the vehicle, a vehicle sideswiped the truck ripping the left side of the front bumper off! I didn't think anything could damage that bumper, but a van, with a similar bumper on the back of their vehicle, caught our bumper from behind and ripped it off as it swiped our fender too. The truck was down for another day. But they did an excellent job of repairing the damage.
Finally after all was repaired, we were able to deliver Manna Packs and sponsorship funds to our families!
I have to leave my kitty to fend for herself somewhat while I'm gone. I will still have my cleaning lady and yardman coming twice a week, but I knew I had to do something for Ti Chat's food and water. So, when there's no Petco… you do a DIY feeding and watering station. It turned out pretty good. The watering station had to be redone because the bottle wouldn't stay upright by itself. So I remade a different model. It turned out well, no picture though.
It hurt to leave my kitty behind, but that's what I got her for was to stay and catch critters while I'm gone. She has her little world set up on my front patio. She will be fine. There will be enough people coming and going to check on her and keep her company.
I flew home safely. I already have work to do as we have Moise from Mackencia's orphanage in need of surgery for a severe club foot. We have others who want to help so we are working together to see what can be done for him. A team from Maryland brought him a walker and he has learned to go quite fast with it already.
Moise trying out his new walker.
I also have a young boy, Paulson, who is partially deaf and in need of evaluation. He was brought to our attention by another missionary and we were asked to get him set up in school. But then we found out that he can not hear well enough to stay in school. So we will be having him evaluated to see what can be done for him.
Paulson
I may not be in Haiti, but the work never ends.
We would appreciate your prayers for continued provision, and especially for these two boys to get the proper care they need.