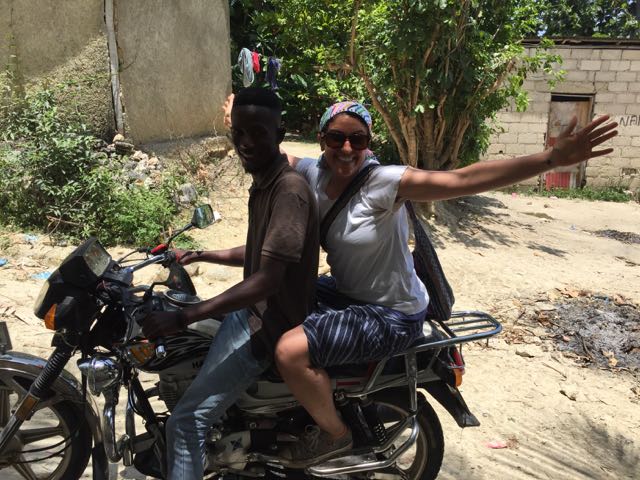 June 9-15
June 9 BEACH DAY! We had one more orphanage to take to the beach, the Pierre Payen orphanage! The ocean was choppy and I was a little concerned but Yassi said it will be fine.
We had Mario, who Yassi sponsors, and Pastor Joel's children helping keep track of the children. While we were waiting for the children to arrive Mario tried to teach Yassi how to skip rocks.
They arrived by the truck load, we had more than the orphanage kids, we had over 30 people! Yikes! We lined them up and walked them to the beach.
Yassi taught them about God's creatures of the sea and let them hold a few of the creatures. Then she taught them about photosynthesis in a way they could understand. We gave them each some beads to lace on a necklace and some of the beads were the kind that change color in the sun. Which helped them understand it a little better.
Then it was into the water we go! We had beach balls and swim masks, goggles and other toys to play with. They played for hours!
At one point some of the boys wanted to go play soccer, but I wasn't sure they would be allowed to use the place next to us because we had reserved a certain section of the beach and another group had the good soccer playing part of the beach. Joel said no at first, but the boys looked so dissapointed I asked Joel if they could go ask the other group if they could join them. Joel said yes. You should have seen their faces light up! They were gone in a flash! The group was kind enough to let them play there as they were doing activities in the water anyway. So it all worked out! Soccer is in the Haitian blood!
We had our usual snacks for them, Chiko (cheetos), juice and watermelon. After snacks they went right back into the water! When I told the soccer players we would be leaving soon, they jumped into the water to cool off too.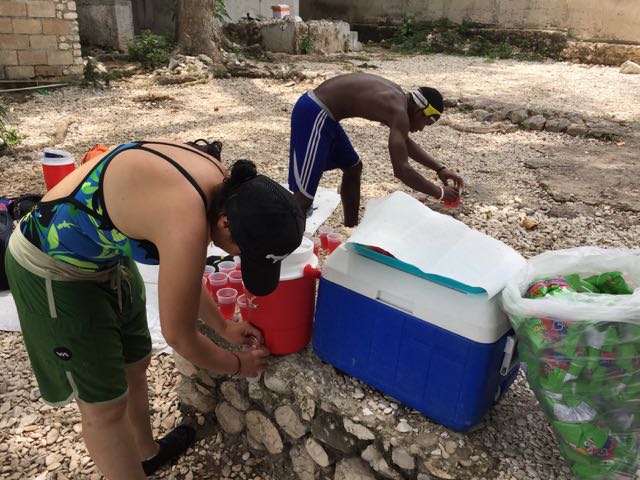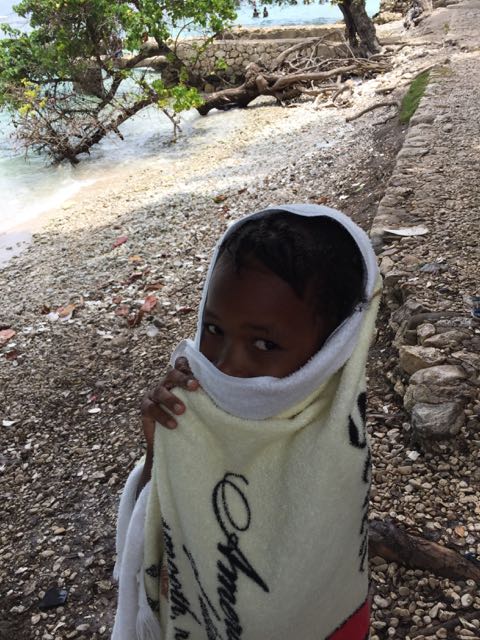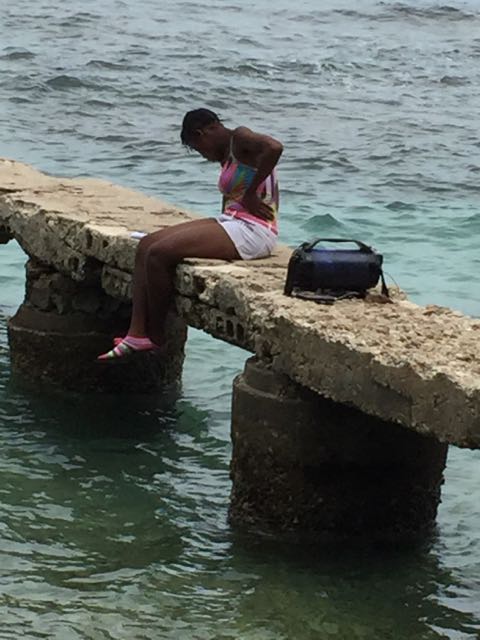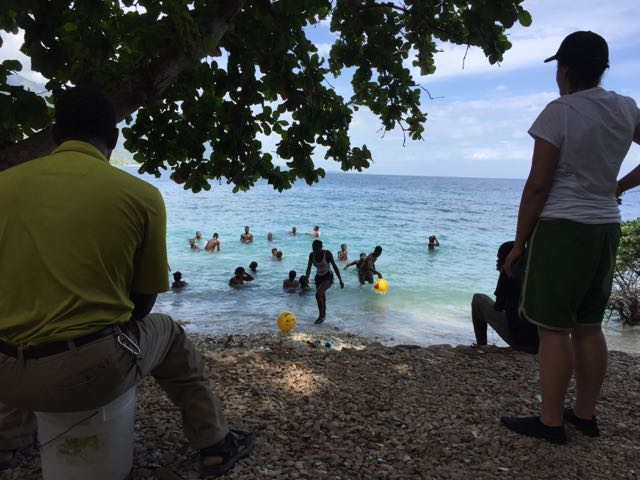 Round two of water fun! Even Yassi was done at that point! We finally had to call them out of the water so they could get ready to go home. We loaded them all into the truck and away they went!
How many Haitian children can you get in a pick up truck?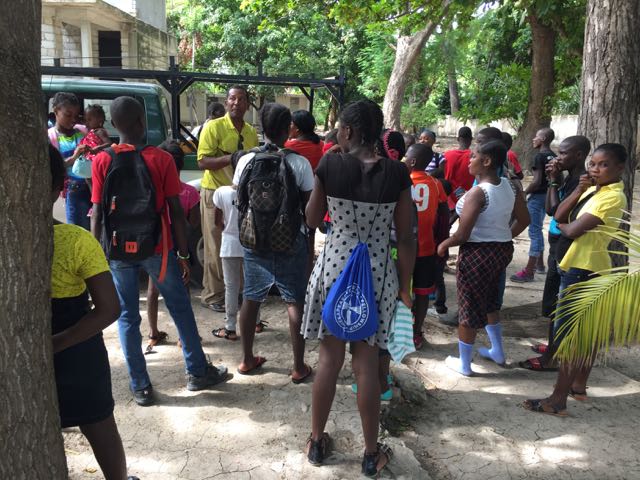 All of them and one more!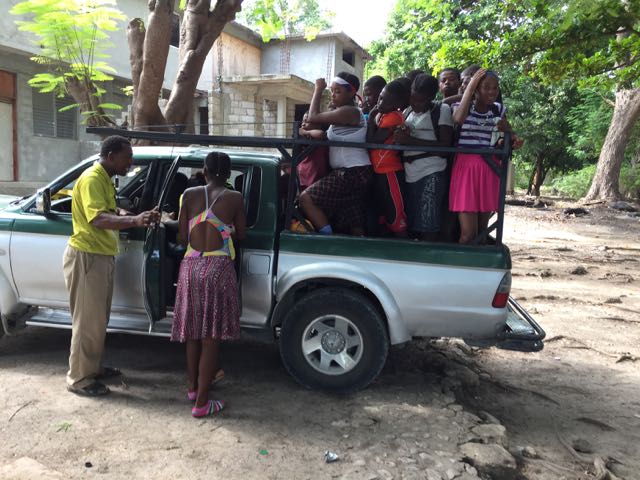 June 10 ROAD TRIP! Yassi had been such a blessing to us and worked so hard that we wanted to bless her back so I offered her the opportunity to see another part of Haiti. I gave her the choice of La Gonave the island off the coast of Haiti, Jacmel a touristy spot off the southern peninsula, or Artibonite valley in the central part of Haiti. She chose Jacmel because she wanted her friends to see that Haiti can be a vacation destination for them. To tell them first hand about Jacmel would be helpful. So off we went on a road trip. We left right after church and drove through some beautiful country up mountains and down the other side. It was breathtaking!
We stayed at Hotel Florita, where I had stayed before. We arrived early enough to walk around town a bit to see what was there. We started at the beach of course. The beach area was nice, but the beach itself was not swimable. It was loaded with seaweed. If you know Yassi you know that wouldn't stop her. I had to ask her, for my sanity, please don't try swimming in it!
The city of Jacmel is a very old city from the French Colonial days and they still had a lot of the old buildings from that era. It was fascinating to see them knowing they were from before their war of independence in 1804.
That evening in the hotel restaurant they were offering a slide presentation on the historic architecture of Jacmel. So while we ate dinner we enjoyed learning more of the history of Jacmel and recognized many of the buildings we saw earlier.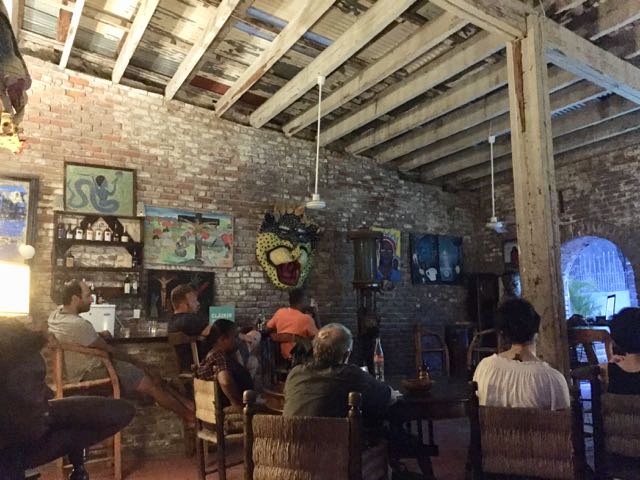 We stayed in a two room house on the Hotel Florita property across from the hotel. They had mosquito netting over every bed. Yassi loved it! She said she felt like a princess.
June 11 The next day after a delicious continental breakfast, Pastor Joel's nephew, Caleb, came to visit us. He is a brother in a catholic organization called the Brothers of Christian Institutions. He gave us a tour of the place where he lives and the school where he teaches. He was busy that day so couldn't give us a tour of the town, but he sent a friend, Brother Domo, to accompany us to tour around town some more and then to go to Bassin Bleu.
Jacmel is known as an artisan community and there was a lot of beautiful art around town. We even came across an art gallery.
Bassin Bleu – what an amazing place! It consists of three large pools of beautiful blue water fed by a river that flows through the area. Each pool has a waterfall. Each waterfall as you follow the river up gets bigger and better, until you end up at this fantastic waterfall pouring into a huge blue pool! We hiked all the way to the very last place possible, then had to rapel down the side of the rocks with a rope and jump into the water to swim to the last pool. We swam to a huge rock and climbed on top of it. That is where we saw the fantastic waterfall pouring into the beautiful blue water pool below. It takes your breath away to see it in person! Yassi and I jumped off the rock and swam in the pool. We climbed the waterfall and jumped from the waterfall. It was such an amazing experience.
Sister Joel hurt her knee while climbing the last bit of the hike so she had to sit it out at the pool just before the great waterfalls. Pastor Joel stayed with her for awhile, then he eventually was able to rapel down to where we were and climb the rock to see the falls. The water was cool and refreshing. Even Sister Joel was able to get into the shallower pool.
After a wonderful refreshing time there we hiked back out and drove back to Jacmel to drop off Brother Domo. We went a different route back to Jacmel which included driving through a river and the market place!
We dropped off Brother Domo and headed back up the mountain back to Port au Prince. The clouds were descending so we were driving through the clouds as they touched the tips of the mountain. Yassi enjoyed her last Haitian mango before going back to t he states. She ate it Haitian style, bite off the skin and dig in!
We stayed at Lakay Poze guesthouse near the airport in Port au Prince that night. This would make it easier for us to drop Yassi at the airport early in the morning. The guesthouse was very nice and peaceful in the midst of the crazy sit of Port au Prince. It even had a swimming pool… shaped like a guitar! HAHA!
June 12 The next morning we let Sister Joel sleep in while Pastor Joel and I took Yassi to the airport and said our good byes. It was sad to see her go. We had a wonderful time together. Pastor Joel drove us back to the guesthouse to rest and enjoy a leisurely time just relaxing until check out.
We planned to pick up more Manna Pack food boxes that had come in for us, so we headed toward Help for Haiti to pick them up. It was CRAZY traffic! Normally from the airport to Help for Haiti is about an hour in traffic. Today it was three hours! The traffic was so bad we would sit a long time, crawl forward a car length, then sit again. All the way! It was hot too! By the time we got home it was around 6pm when we should have been home around 3pm at the latest. Needless to say it was a miserable trip to get the food boxes and a long hot trip home.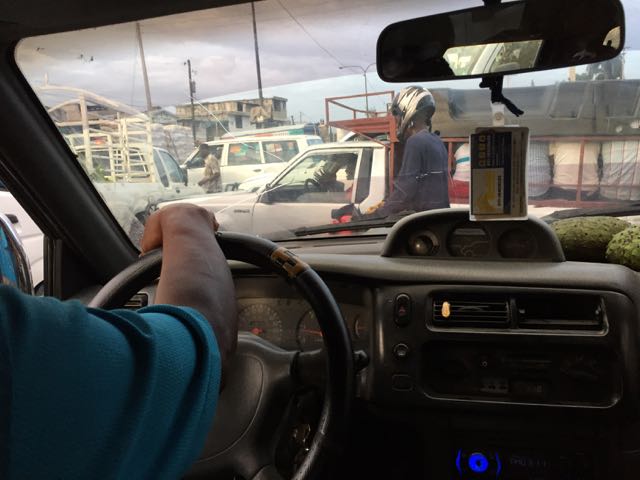 June 13 BEACH DAY! One more time! This time we took all the children from Sister Joel's Bible Club and the ladies from her Reading Class to the beach. I didn't have Yassi to teach them about sealife so we just went swimming, played with bubbles, and played soccer with beach balls. We had the usual snack of Chiko, juice and watermelon. Pastor Joel had his carpentry class so he dropped us off and came back for us. When he came back, some of them went in for a second swim. They really enjoyed their beach day.
June 14 SICK DAY! I had been fighting a cold all week and it got the better of me today. I coughed all night last night and was miserable all day today. Pastor Joel had a funeral to go to and other things to do so I was happy to take a day of rest. I doped myself up with cold medicine and slept most of the day away.
June 15 GRADUATION DAY! Our Beginners Reading Class Level 1 graduated today! We have 5 ladies that successfully learned the alphabet and basic reading skills. We used the curriculum "Je M Louvri Nan Kreyòl" from Literacy & Evangelism International. It teaches how to read and about the Bible at the same time, all in Creole. Sister Joel enjoyed using the curriculum and each student had a workbook to complete. She gave them exams and prepared a report card for each of them. We held the ceremony at Pastor Joel's house. Each student could invite two others. They sang a song, recited scripture verses, and showed off their skills in reading. We gave a gift of a New Testament Bible to those who passed the class, and complete Bibles to our two highest achievers. Cake and drinks were served at the end, It was a nice celebration. The students are very happy and pleased with themselves, as they should be! We are taking the summer off but will be offering Level 2 in the fall.
June 16 Today was another day of rest and recovery for me. I'm still fighting the cold, especially the cough. Having a cold in the tropics is miserable. I spent the day trying to get my blog posted while I listened to the beach goers partying across the street. The internet here is just normally slow, but especially when posting pictures. Tomorrow is church and then it's two weeks of adventures left before I head back to the states!
June 2-8
Yassi is here! We picked up Yassi Khairolomour in Port au Prince on Saturday, June 2, and we have been going ever since! We put her to work right away when we picked up 35 boxes of Manna Packs and a few pallets at Help for Haiti. Then we drove home and settled in.
Sunday, June 3, we went to church with Bev & Richard Felmey of Feed My Sheep Ministries and enjoyed a leisurely lunch visiting with them. In the afternoon we drove Madam Julio and Anya to St Marc to visit baby Michael in the hospital. It was the first time Anya saw him and she was so excited! On the way home we bought some mangoes and Yassi was so excited! In the evening Yassi and I walked over to the beach and took a relaxing dip in the Caribbean. Yassi was excited to see all the sea life surviving around the reef.
Monday June 4, we were invited to Feed My Sheep for lunch and Yassi was able to see their new home. They gave her a tour of the place and then we had a nice long visit. We walked back home with their son Wood and decided to go for a swim again. The water was so nice! Yassi went on a crab hunt, but discovered that the crabs in Haiti are a lot faster than crabs around Catalina Island.
Tuesday June 5, The adventures are never ending here! This morning we went to visit Mario Fleurmond's family, which is Yassi's sponsor family. But this is not a place we can drive to. We drove as far as the Pierre Payen orphanage and parked our truck, then we hopped on a couple motorcycles, "motos" to ride up the mountain part way and hike the rest of the way.
Well that was the plan anyway. Unfortunately the moto Pastor Joel and I were on was not in the best condition. We barely got started and it was going very slow up the mountain. I kept hearing a clicking sound and I knew we weren't going to make it very far. Sure enough one too many clicks and the bike stopped, but the driver wasn't prepared for it and we started going over. Fortunately Pastor Joel and I were prepared for it and I got my leg out of the way of the motorcycle and Pastor Joel put his foot down and out of the way. But even though we did that we all tumbled to the ground. I fell on top of Pastor Joel and the driver fell on top of me because we fell sideways and down hill. Fortunately we were not hurt. The motocycle on the other hand had a broken chain and was useless.
So Pastor Joel and I hiked up the mountain until we came to where the other moto was waiting for us with Yassi. We discussed getting another moto and one came by. So we tried again.
This one made it most of the way, we had to get off the motos often to let them go over difficult spots.
We got as far as we could on the motos, then rested while we waited for Mario to come and guide us the rest of the way.
It was a beautiful hike up one side of the mountain, down the other side, over little creeks and through banana and papaya plantations. Finally we hiked all the way up to the top and there was his family's village. It has a smattering of houses built of mud and rock mostly. Some had cinder block some had cement. Mario's house had washed out with Hurricane Matthew and we had helped them rebuild. I was happy to see they had put cement on the outside of the house.
They were so hospitable. We sat on comfortable lawn chairs and chatted while the ladies were doing their laundry. Mario went to the garden and brought back some coconuts to refresh us. There is nothing like coconut fresh from the tree! There is so much juice in it and the meat is soft and sweet! Yum! We had a wonderful visit. Yassi got to meet Mario's grandparents, older sister and little brother. She got to see how his family lives and the work he is doing as a gardener for his uncle. It was a great visit!
Then we had to go back down the mountain. We had to walk back the way we came to meet the motos.
We had asked for three motos to pick us up so we each were on one. It's easier for the driver and the moto. But they didn't get a third driver. I'm guessing they didn't want to split the money three ways. So we hopped on the motos to ride down the rest of the way. Bad Mistake!!
The driver Pastor Joel and I had was obviously not as experienced as Yassi's driver. We got going downhill on the moto and our driver cut his motor to save on gas. I knew then we were in trouble, because we were going down a very steep portion of the mountain! We got going at a pretty fast clip, Pastor Joel is yelling, "Push the brake! Push the brake!" in Creole, I'm yelling, "Oh Jesus, oh Jesus, oh Jesus!" And then it happened…. the driver not being able to stop drove into the muddy grass alongside the trail…. BOOM! WE STOPPED!
We came to an abrupt hault! The driver slid forward over the handlebars, I slid on top of him and Pastor Joel slid on top of me! Thank God the whole thing didn't flip over! Pastor Joel and I jumped off that moto so fast! That was it! I was done with motos! We're walking the rest of the way! Yassi is sitting on a moto at the top of the trail watching all of this, then her moto driver starts down! I'm yelling "NO!! Get off and walk!" Too late!… BUT, they made it down just fine, because he didn't turn off his moto and he braked properly.
I told Yassi to get off the moto, we're walking the rest of the way. I paid the drivers a little something for their trouble and off they went. I was happy to walk it was nice to see the beauty all around us.
We walked as far as Pierre Payen orphanage and we visited with them for awhile. They had a simple meal ready for us and we were happy to have refreshing waters to drink. We gave Yassi a tour of the orphanage and she got to meet some of the children around there.
We received a call that Madam Julio's baby was being released from the hospital and could we come pick him up? We were half way there anyway so after we left the orphanage we drove to St Marc and picked up baby Michael Simon with daddy. I got the privilege of carrying baby to the truck and riding with him on my lap all the way home. (They don't have much in the way of car seats here) Mommy and big sister were so happy to have baby Michael home!
We were all so hot and sticky (and a little achy) when we got home, all three of us decided to go for a late evening swim. We quickly changed into swim suits and walked over to the beach. It was still unlocked so we slipped into the gate. We swam for a good hour or more. Swimming in the late evening was so peaceful and serene. The sea was like glass. It was much needed after our crazy adventures that day!
Wednesday, June 6, our morning started out with a trip to see the Kay Plant farm. Diesmy Garcon has a heart to grow a large amount of produce and reforest the land. So he rented some land and started planting all kinds of vegetation. I asked if I could see the farm. Oh Boy! Little did I know it was going to be another adventure! The farm was not as close as I thought. It was an hour drive on a very skinny road that didn't look like a road, but more like a moto trail. At some places I thought the road was ending, but nope… keep going! The views were spectacular! The road followed the Montrouis river and the scenery was amazing!
Finally the road came to an end and we parked in the grass. We were at the base of a mountain and Diesmy pointed up the mountainside saying, "This is the farm." We started hiking up a small trail and he pointed out various things he had planted along the way from eggplant to papaya, from banana to citron.
We got halfway up the mountain at a nice shade tree and he showed us where he wants to build his house. He pointed up!?! Even farther up the mountainside! Yassi's all for it. "Let's do this!" So we climbed up through an even thinner and steeper trail until we reached the top! It was a challenge getting up there but we did it! (I was so pleased with myself!)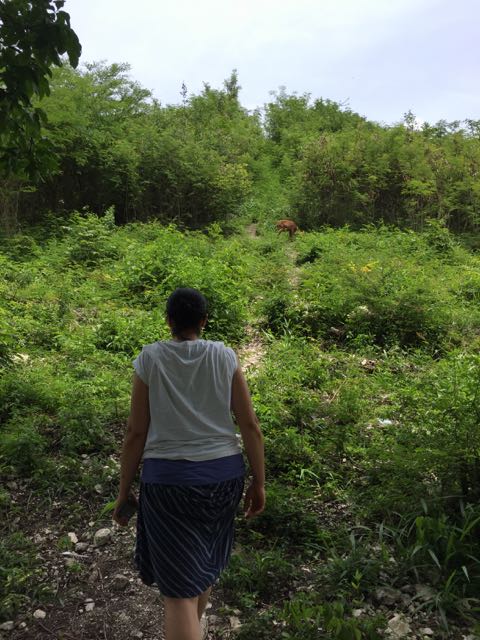 First he will be putting a huge cistern up there to hold water so he can water all his plants. He will need a water wheel and pump system to pump the water up into the cistern then he will run the water in an irrigation system down the mountain to the plants. He has some amazing ideas that really could work. We spent a good time up there talking about his hopes and dreams, then we gathered together and prayed for the Lord to guide and provide so many blessings will come forth.
On our way back out we came across another vehicle going in. This road is barely wide enough for one vehicle. Diesmy had to go out and help the other driver move out of the way so we could get thorough. Always an adventure!
We took such a long time with Kay Plant I was concerned we wouldn't be able to do our afterenoon plan, but because we had plans with the Kay Refij children it didn't matter if we were late. I decided to take advantage of Yassi's teaching and marine biology knowledge and skills. We made a plan to take each of the orphanages to the beach and teach a little about God's creation, a little about marine life, and then play at the beach!
So today we took the children of Kay Refij, even the little babies went along. I had Pastor Joel's children join me to help keep track of all the children, and one of their nannies came along. They all sat around a circle while Yassi read the scripture Genesis 1:21-22 and told them about how important it is to take care of God's creatures of the sea. We gave them color pages of sea creatures to color. When they finished she had a bucket with some of the sea creatures in them and let the children touch them and hold them while she explained a little about them. Then we went swimming! They loved playing in the water!
After a long fun time in the ocean we were all hungry so we had "chikos" (like cheetos) and watermelon for snack. Then we washed our faces with water from the sea. It was crazy fun!
The children were well behaved and we all had a fun time! Pastor Joel's children were a big blessing and had a fun time too.
Thursday, June 7, we did it again! This time the morning was spent with Yassi playing with bubbles trying to make the perfect bubble formula for super sized bubbles while I slaved away washing my clothes. I have a laundry lady, but she has been sick all week. So I had to do my own laundry. I already appreciated my laundry lady, now I REALLY appreciate her! The hardest part is wringing the water out of the clothes. I don't think I did it as well as the Haitian women do their laundry, but my clothes don't stink anymore and they look clean. I made sure I rinsed them well because I'm allergic to the laundry soap and I didn't want a rash! (Although my hands were peeling that night and the next day from the soap.)
The afternoon was spent with Mackenzia's orphanage. We picked up all the children and took them to the beach. Yassi did the same thing with them in teaching them about God's sea creatures and how we need to take care of them. Then they got to hold and touch some of the creatures. They learned that the slimmy green seaweed that lives with the coral blows bubbles of oxygen out for us to breath, so we pretended to be seaweed and blew bubbles!
My favorite precious moment of that time is when Predson, who is handicapped with mild cerebral palsy, sharing his bubbles with Moise, who is handicapped with a club foot. Oh my heart!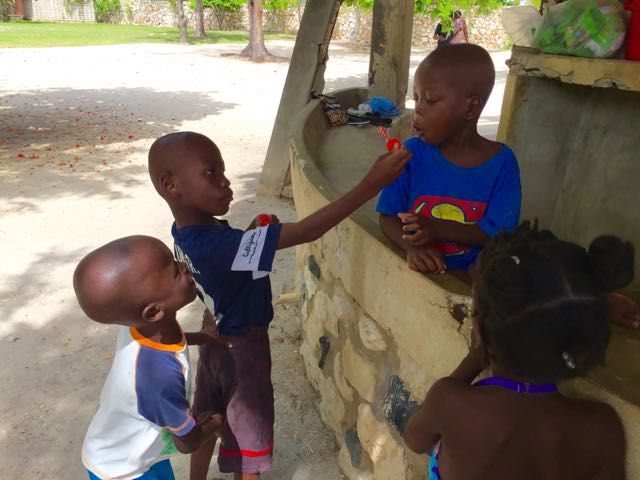 Then we all went in the ocean for a swim. What was fun was seeing the children exploring the rocks to find sea creatures. At one point they saw some crabs and were yelling at Yassi to catch it! Children are children no matter where they live or what life they live. They all like to play in water and sand.
We had a great time and all went home happy. But our day wasn't over yet! We still had to go do nursing visits with Sister Joel. So Pastor Joel ran his children home, quickly changed, picked up is wife and came to pick me up. We went to visit both Kay Refij and Mackenzia's. The children were doing pretty well, but a couple of Mackenzia's were not feeling well. Too much fun I guess. When we were leaving several of them were sleeping on the tables. I guess we wore them out!
Friday, June 8, This morning we went over to Mackenzia's so Yassi could buy a few things to take back with her, she really wanted to encourage Mackenzia and support her orphanage. We passed out balloons for the children and played with them for a bit, then Yassi got a tour of the orphanage.
We showed her where we are hoping to fix up a temporary place for the children to live, while another nicer place is being built by someone else for them to live permanently. Right now they are sleeping on the floor in two rooms of Mackenzia's home. We are hoping to give them more space to live and a nice yard to play in. Please pray with us as we ask for the Lord's provision for this to happen.
The afternoon was spent getting caught up on this blog and relaxing. We need a day of rest as tomorrow we will be doing a beach day again with the Pierre Payen orphanage children. It was the right day to do it too as it is sweltering hot today!
This evening we went to visit a new family in need to see if we will be sponsoring them. We were alerted to the need from a team that came to stay at Diesmy's guest house. It's a sad situation. A young 10 year old boy has been wandering the streets becasue his mother abandonded the family, the father has a new girl friend and hasn't been taking care of his son, so his aunt has been taking care of him… sort of. She's only 19 and is not really wanting the responsibility. I'm not sure what I will be able to do for them as he has no one being responsible for his care. Please pray with me as I seek the Lord's guidance in this mattter.
Every day since Yassi has been here we have been to the beach. Even if it's for just an hour of relaxing and cooling down. Tonight we went to cool down and for the first time, I snorkled! Some of you may not be aware, but I never went snorkling because I don't like something covering my face so I can't breath. But Yassi is opening up a whole new world to me. We have a HUGE reef just a short distance from the shore here and it has some of the most fascinating little creatures. I felt like I was in an aquarium. Now as long as I don't see any big scary creatures, I should be fine.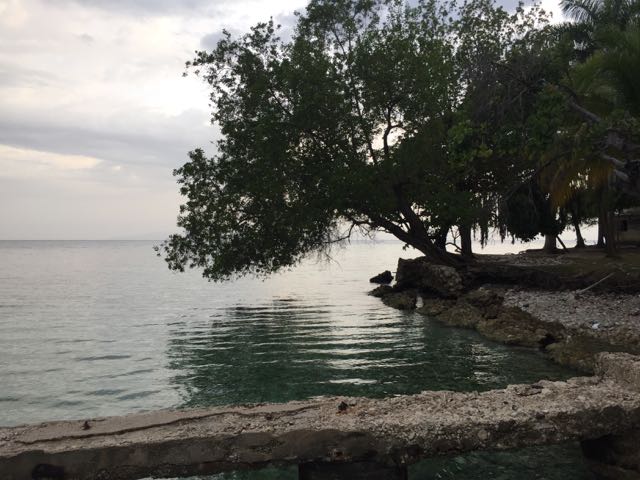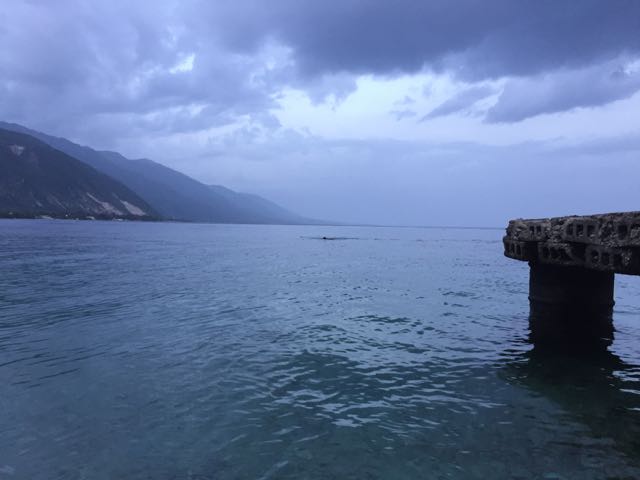 This is Yassi exploring the reef.