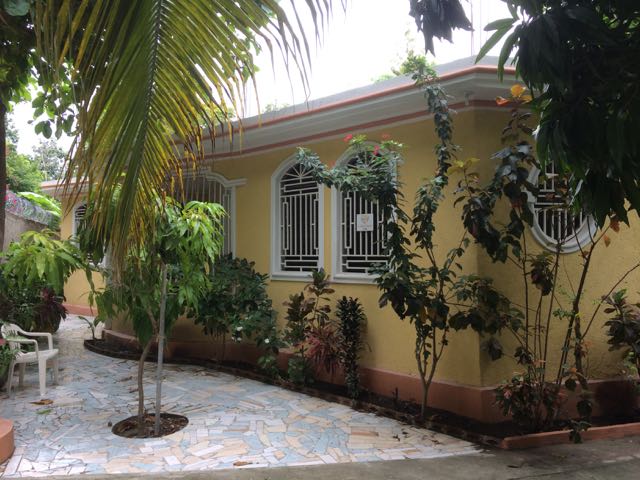 MAY 10-14
The past four days have been hot and muggy but full of adventure.
Friday ROAD TRIP!
The boys in the carpentry class are really enjoying the class so we extended it for a couple more months. Right now they are helping Pastor Joel prepare a classroom and sleeping quarters for a discipleship school for another organization, "A Light of Hope." After they are finished with that we will need wood for them to do more projects. My finances are limited. So when I heard that an organization here in Haiti called "Love A Child," was giving away wood pallets, I contacted them right away. They said we could have as many as we could fit into our truck. They are located in Fond Parisian which is near the Dominican boarder.
So Pastor Joel and his wife, our mechanic, Claudel, (for an extra strong body and in case of breakdowns) and me loaded into the truck and drove across Haiti. It was a fun adventure to explore a different part of Haiti and to see another ministry. Love A Child is a very big ministry, they are very blessed, and they bless many! Including us! We managed to get 32 pallets on our little truck. We were loaded down!
We had a fun time exploring a new part of Haiti. We saw a power plant, sugar cane fields, beautiful mountains, a lake and lots of pretty scenery.
We explored a huge market place near Love a Child and I purchased some hand crocheted items to encourage the lady selling them.
On our way home Scott sent a text that said Pastor Joel could let me ride on top of the pallets the way the Haitians do, and Pastor Joel took him at his word! (I didn't last up there long!)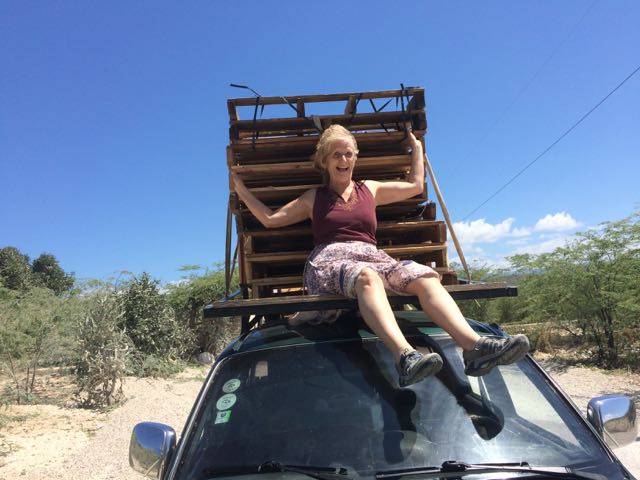 Back home we unloaded all the pallets in my yard so they can take them apart later. What a blessing it will be for the boys to break down the pallets and use the wood for projects!
Saturday FUNERAL
Pastor Frito of Jesus of Nazareth Orphanage in Pierre Payen had his younger brother Elicit Ferdinand pass away. I did not know his brother, but out of our love and respect for Pastor Frito, Pastor Joel and I went to the funeral. The funerals here are much different than they are in the states. They last hours and there is a long processional of people with a band playing who walk to the gravesite to place the body in the tomb. We drove behind the processional, with some people who were unable to walk that far. It was a long way, they even crossed the river! It pretty much ended up being the whole day. But we could see that Pastor Frito was very grateful that we came.
Sunday MOTHER'S DAY
With me not being in the states, I can't enjoy my daughters and grandchildren. So after church I invited Pastor Joel's family to go to the beach. So we went to Wahoo Bay beach resort and enjoyed splashing in the ocean, relaxing in the sun and they even played some volleyball. It was a relaxed special day. We all enjoyed it.
Monday
I finally got to go visit with Diesmy and Vilien Garcon. I wanted to see all the improvements at Kay Refij. WOW! How the Lord is blessing them! The kitchen/cafeteria building is coming along well. It's painted and tiled already. Next will be the windows and doors enclosed. Then the kitchen is next. It's just a shell now. It needs cabinets, a sink to be plumbed and propane appliances put in. They have come a long way just since I was here last!
Aquaponics!
Diesmy had the opportunity to go to aquaponics training at another organization called Extollo. They held a special class for aquaponics and he learned a lot! He set up his own system and has already harvested some crop from it. What I love about Diesmy is he uses what he's got and repurposes/recycles things. He can't wait to eat some of the tilapia fish growing in the tanks.
Kay Plant
Diesmy has been growing plants for a long time now and has a lot of knowledge on how to do it with recycling. Right now he is grafting thousands of citrus trees from mature healthy citrus trees to produce a huge crop. If he succeeds in getting 1500 trees ready by the end of this month, he has been offered a huge contract with another organization. This will help his Kay Plant business so much. I am so encouraged by how much Diesmy is following his dream in caring for the children entrusted to him and giving back to the community.
Did I mention I have a kitten? While in Fond Parisian picking up pallets, the ministry's warehouse cat's kittens were of age to leave home. So between Kaeli and Mike of Love A Child and Pastor Joel, they convinced me I needed a kitten to take home. The mother is a very good mouser and I have high hopes for this little one. She catches bugs very well and she eats them too! Good Kitty!
She is very tiny and I think she was weaned a little early because she is very clingy and tries to nurse on my fingers all the time. I'm giving her a week or two before I decide if I keep her or not. I'm not home much when I'm here and I will be gone two months every two months so it will be lonely for her while I'm gone. Its not really fair to her to be alone so much. So we shall see if she stays or not. She is a cute little thing though.
Right now it's pouring rain outside and I have been invaded by flying bugs that lose their wings. I'm told they're termites, but if they are I'm in trouble! I swept them up after kitty had her fill.
I had such an awesome day I can't wait a few days to blog about it. I'm posting it right now! My morning started out like any other, maybe a little hotter than usual, 90 degrees in the shade.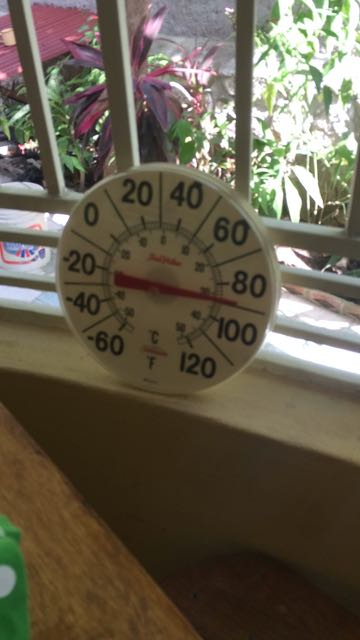 Pastor Joel came over and we did our devotions like we do every morning. Then we planned our day, which never actually goes as planned but we do it anyway. We went to visit Mackenzia at her orphanage first even though we knew most of the children were still in school. I really wanted to see her and chat a bit. Well when we got there little Woobenski aka "Fedson" was sitting on the bench in tears. He cut the top of his foot with a broken glass bottle. (I didn't get the whole story on why he had glass in the first place) Mackenzia was just trying to bandage it up when we arrived. I saw the wound and told her it needed stitches. So here we go again…. off to the clinic.
This time not all the way to St Marc, but the local St Paul Episcopal clinic just down the street from us. I was pleasantly surprised and very impressed to see how organized and clean it was compared to the hospital in St Marc! They saw Fedson right away. A nurse cleaned the wound and had Mackenzia go for a few supplies. But there was no suture equipment available in the clinic to sew the wound closed. So the nurse borrowed Pastor Joel's phone and called someone to bring some to the clinic. We didn't wait too long before someone arrived with a packet of surgical thread and sutures. That's when the fun began. The nurse tried to inject an anesthetic into the wound, but Fedson wasn't having it! It took all three of us to hold the little guy still so the nurse could inject the anesthetic and sew a couple stitches in his wound. Finally the wound was stitched and dressed and we could take him back home. It only cost us 600 gds, about $10 usd.
Back at the orphanage we got Fedson settled and resting while we chatted with Mackenzia. Sitting there talking with her and watching her interact with the children was priceless.
Soon children started trickling in from school. Every child was happy to see us. Little Nadley comes over to me smiling and says, (in Creole) "Sister Darlene, I've been asking Pastor Joel for you everyday! I'm happy to see you!" Then she gives me a big hug! We were all so surprised and I was so blessed! She was so excited to see me. Oh my heart!!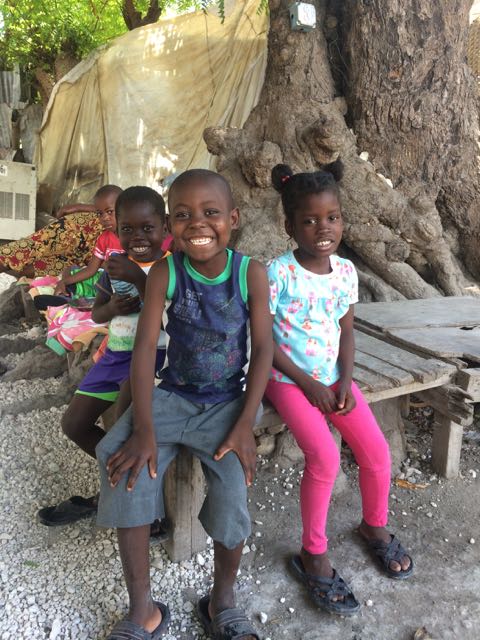 Unfortunately shortly after the children arrived, we had to leave because Pastor Joel had to go to his carpentry class. I promised I would return again soon.
Pastor Joel and I had a quick lunch then he left for his class. I told him he didn't need to return for the rest of the day. I had clothing to sort for the orphanages and I didn't need to go anywhere else.
So I settled into a comfortable contentment as I sorted clothing by size to decide which orphanage gets what. It may have been 90 degrees in the shade with high humidity, but my little patio was the coolest place to be. I found a few pieces of clothing that needed mending so I sat down to do a little sewing too. Sitting there listening to the tropical birds calling each other, the rhythmic sound of the two men next door sawing a huge log into lumber, a goat bleating here and there, I found myself very happy and fulfilled. I was doing what I love, even if sweat was running down my brow into my eyes. I felt so at home and at peace.
Just as I was getting ready to get myself something for dinner, I heard the familiar sound of our diesel truck rounding the corner and the "beep, beep" of the horn. It was almost 6:30 what was he doing here? I opened the gate and there was Pastor with Sister Joel. They had done her nursing visits a day early and were heading out to Troufonbon to give Marie Nicole some water. She was in desperate need. But he needed money to put diesel in the truck. So I got him money and last minute I decided to come along. Boy was I glad I did!
The drive itself is always enjoyable, but when we get there and the children run out to greet us it's pure joy! Unloading 8 – 5 gallon buckets, and a 55 gallon barrel of water by yourself is no fun, so I volunteered to help Pastor Joel. I jumped up into the truck and helped unload the buckets then I dipped the empty buckets into the barrel and pulled bucket after bucket of water out of the barrel. Sometimes pouring some of the water on myself as I lifted them out.
Pastor Joel hauled all of the buckets to Marie Nicole's house.
About half way through… it started to rain! Hello!?! I'm sure you all know this, but I have to say it… The Lord has a weird sense of humor! Here we are delivering water to someone in desperate need and He decides THEN to pour down rain on us. And it POURED! I think the Lord dumped one of His own huge buckets of water on top of us. Maybe He thought He was being helpful. Haha!
Pastor Joel and I were drenched by the time we were finished. We got back in the truck and I just cracked up! I laughed so hard! That was one of the most fun things I had ever done! I just had to share it with you.
And I don't need to take a shower tonight!
I have WATER & POWER again! Yay! It took a few days, but we got it! Sunday was a quiet mellow day. I went to church with Pastor Joel's family. Sister Joel prepared a nice lunch for us and I enjoyed spending time with the family. At home I took a two hour nap. It was definitely a day of rest.
Monday morning Pastor Joel went looking for men to dig our well deeper and a generator. Meanwhile my young yardman climbed into my water tank on the roof to drain the murky water and clean the tank. I was going to be ready when the water started running!
I tried to take apart my generator some more to see if I could fix it myself. I had high hopes that it would be just a loose tube and I could just put it back on and Vois la! But that's not how it went. I couldn't get both sides of the cover off and I was too afraid of making it worse by disconnecting wires etc. Of what I could see, I didn't see any tube loose.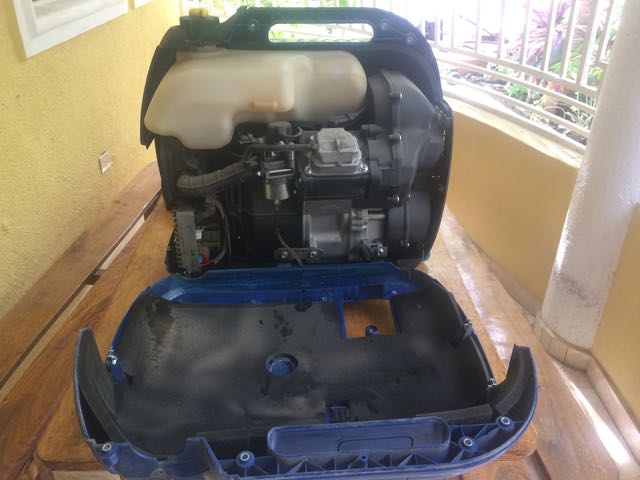 By noon Pastor Joel had returned with workers and equipment. Now I need to explain something. In Haiti there is a double standard. If you are Haitian, labor or product is one price. If you are "blan," which means foreigner to them, there is another price. Usually that price is double. For something like digging a well, the price also depends on how deep they have to dig. So Pastor Joel, being the frugal man that he is, ordered me to stay in my bedroom the whole time they were digging so they would not see me, and charge double. Do you know how hard it is to stay in your room while outside they are digging a well deeper? I wanted to go watch them and see how they did it! I was going stir crazy! The only thing that kept me sane was my housekeeper who came to sweep and mop because she sat and chatted a bit with me. Three hours later and three feet deeper, WE HAVE WATER! Our plumber, who doesn't over charge by the way, was over seeing the digging because Pastor Joel had carpentry class in the middle of it all. He said we should have no more problems now. Yay! BUT we still had no power. The rented generator was for using a submersible pump to clear the water so they could dig. I learned later that they dug the well out by hand with a pick and shovel. So the generator went back with the pump and the men. We were left with a mucky mess to clean up and a well with water in it!
Without power we couldn't pump water into the tank on the roof so I was still without water and power one more night. I still had my two back-up batteries keeping my phone charged. Well, until I went to plug my phone in for the night. Just as I plugged it in, the inverter started beeping meaning the batteries were low. By midnight it was all gone.
Today, Tuesday, we drove to St Marc with my leaky generator to get it fixed. At first I wasn't going to go because I was hoping to have someone cleaning up the mess the diggers left. But they didn't show up so I went along. BAD MISTAKE! Remember the double standard on pricing? Well Pastor Joel dropped me off at a grocery store to get a few things and I was to wait there until he got the generator fixed then he would pick me up. I expected an hour or two… I shopped… took my time… strolled the aisles… took note of some price differences… I really got to know the store well… finally, maybe a half hour later, I bought some things. Then I asked if I could sit and wait for my friend to come get me. They usually let me do that and they were very gracious to let me do it again. This time they even had a TV going with something like Direct TV on it. At first they had some game show on in French, and I was enjoying it. Then they changed the channel. For the next four hours I was subjected to poorly acted Spanish novellas, dubbed in French. At first it was funny, then it got irritating. After having been sitting there for so long finally the store clerks were asking me where is my friend? Is he coming back for me? I was starting to wonder myself! I tried to call Pastor Joel but didn't get through. I tried texting, but no response. All I could say to them was "M'pa konne, I don't know!" Finally he showed up. On our way back he informed me that the mechanic said there was nothing wrong with the generator. Gas must have leaked out when I moved it. Seriously? Not THAT much gas! I've been moving it back and forth all this time. I asked how much they charged us. Are you ready for this? $195 usd!! Yikes! I wonder what they would have charged if they found something wrong!?! I was not a happy old lady! It took awhile for me to get over it. Pastor Joel, always the optimist, is telling me how they cleaned it all u, made sure all the wires were connected well, and ran it a couple hours to be sure nothing was wrong. They even changed the spark plug for us, (that I provided). Deep sigh…. I have to accept that ridiculous expenses like this are going to happen. It just kills me to spend money on things like this though. This is when I have to ask the Lord to remind me why I have this house and all these crazy expenses? I hate spending the Lord's money on me and my comforts when the orphanages could use the funds. Supposedly I will be reimbursed for the plumbing and the well digging from the landlord, which will help. At least that is what I was promised. We shall see.
As long as I was spending so much money on myself, I ordered Pastor Joel to stop in Montrouis before heading home. To pacify myself, I bought some bananas and mangoes. I needed some comfort foods!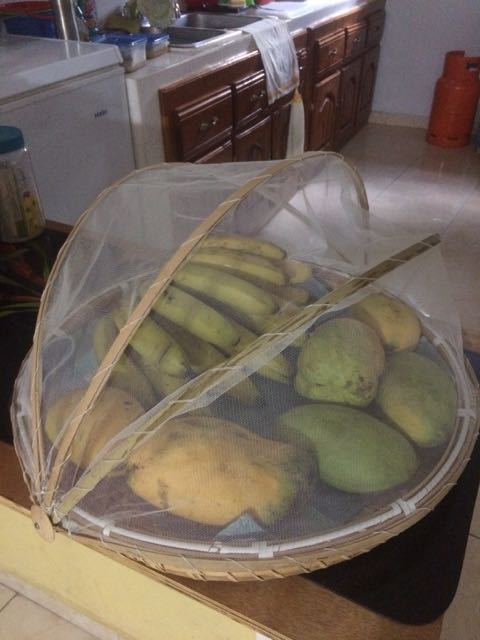 Once home we cranked up the generator and filled the tank with water. Now I'm sitting here with my computer plugged into the house current as the generator lights up my house and recharges my two back-up batteries. All is back to normal, or as normal as it gets here.
MAY 4-5
I decided to rename this blog because it seems like a good place to share tid bits of what it is like to be a missionary here in Haiti. I am not going through anything that every other missionary here hasn't already gone through or is going through. But for those of you who have no idea of missionary life it's fun to share my experiences with you.
If you are following my Facebook page you know my recent blessings and frustrations. But for those who do not have Facebook let me share some with you.
Yesterday was such a blessing for me! I had lunch with Bev and Richard Felmey at Feed My Sheep Ministires to celebrate Richard's birthday. I saw a couple of other missionaries there and it was a blessing to catch up with friends.
In the evening I had the honor and privilege of attending the graduation ceremonies for Pastor Joel's three beautiful daughters, Tabitha, Bilah, and Hannah Museau. What a wonderful night it was! These beautiful young ladies exude confidence and capability. They are beautiful inside and out.
Today was a mellow slow day as we were all recovering from the celebrations of the night before. I spent a lot of time in the word of God. It's been cloudy and windy with a little rain every so often. Which makes for very nice cool weather for me.
I managed to buy ice from the ice delivery man and replenish my ice today. It is quite a task. First I listen for the ice man's "tap, tap, ta, tap" on the side of his truck. Then I run out the gate and wave to him so he knows to stop by my place. Then I grab my cooler and 200 gourdes, about $3 usd, and wait for him to get to my gate. When I hear him coming I open the gate and tell him in Creole, "M'bezwen de san gourdes souple." His helper then cuts a nice sized chunk of ice and drops it into my cooler for me. We chat a minute as he says he hasn't seen me, did I go somewhere? I tell him I went to the US for a little while, but I'm back now. All in Creole. Pleased with myself for being able to converse with him, I pick up the heavy cooler and haul the huge chunk of ice into the kitchen. I need to split it in half with an ice pick to make it fit in the bucket and container I use to hold it in the "glorified cooler" aka freezer. First I have to remove all the food items and the 5 gallon bucket that now is full of melted ice aka cold water, up out of the freezer. Then I place the new bucket with ice in and replace all the food.
As I mentioned in my last post, I have NO WATER. My well is very low and the pipe is sucking air. It will have to wait until Monday to get a plumber over to fix it. So the cold water aka melted ice will be saved to use for washing dishes or whatever the need may be.
As I was preparing to crank up my generator, I discovered that my generator is leaking gas!
Praise the Lord I stayed out late last night! Usually I crank up the generator a few hours in the evening. But I got back so late I decided to just go to bed. Had I tried to start the generator it could have blown up and me with it! God is watching out for me! Meanwhile my generator is in pieces as we try to let the gas dissipate so we can try to fix it tomorrow.
So that leaves me with NO WATER and NO POWER now. Whatever charge is left on my two batteries is all I have for power. I only use it to charge my cell phone and lanterns so hopefully it will last a bit.
I'm trying to keep things in perspective. I know many Haitian families are without running water and power all the time. If they can do it so can I. I have buckets of water in the kitchen and both bathrooms. Bathing with a cup and bucket can be very "refreshing." So I wash my dishes by the light of a solar lantern. I have a wash basin in my sink to wash my hands, and buckets for flushing and bathing. I'll be using solar lanterns for lighting as long as they will last.
Well it's night time and I don't want to use up my light or computer power so I will shut down for the night. Who knows what tomorrow will bring!
MAY 2-3
Coming "home" to Haiti is so different than coming "home" to Catalina.
In Catalina I just walk in the door, if it's night I flick on a light or ask Alexa to do it, put any food needing refrigeration in the fridge, grab a cold water, sit down and relax. My suitcases can wait to be unpacked.
In Haiti I have to unlock the gate and let Pastor Joel drive the truck into the yard. Unlock two locks to get into the house before I can walk in the door, if its night I have to put on the flashlight on my phone until I can find a solar lamp that is working then turn it on. Go put gas in the generator, crank up the generator, and plug in the house, THEN flick on a light. Unless of course the cord connecting the house to the generator got unplugged. In which case, while Pastor Joel goes to get ice for my glorified cooler, aka non-working freezer, I have to go on the roof and untape the pvc pipe it's in, replug it and retape it. THEN the lights come on. Next I need to plug in the batteries to charge while the generator is going. When Pastor Joel returns with the ice he or I need to split it in half with an icepick because its too big to fit in the 5 gallon bucket it sits in, while in the freezer. (That's so it doesn't leak all over the floor.) He had class and had to leave so I got the honor. Then I set the bucket in the freezer along with the food needing refrigeration. Next I wipe off the water dispenser cut a hole in the top of a 5 gallon water jug of purified water, lift it up and plop it on the water dispenser trying not to spill too much of it. Then I get a glass from the cupboard but discover "something" is leaving "droppings" on everything. I need to wash the glass with bleach water that's when I realize I need to go back up to the roof and turn on the water valves from the water tank so I have water in the pipes. (Fortunately Pastor Joel filled the tank before I arrived.) Then go back in the kitchen and fill a small tub with water, add a capful of bleach, and rinse off the glass. THEN I can dispense myself a warm glass of drinking water. (It's 90 degrees in the house so even warm water tastes good) But before I sit down to drink it, I need to plug in my lanterns and phone so I will have charge overnight. It's SO HOT I go get a fan, find a charger and plug it in so I have air moving on me. THEN I sit down and take a drink of my water. I think of all the stuff I need to unpack before I can settle in for the night. Batteries for the fan so I can run it all night, batteries for my OFF clip on mosquito repeller and some snack foods I can't leave in suitcases but need to put into sealed containers so critters don't get into them. After that, having not slept for over 24 hours, I'm ready for bed. But before I can go to bed, I spray my room with bug spray and close the door for 5 minutes. While I'm waiting, I switch the cord on the batteries from charging to inverter, and run cords to my bedroom so I can plug my phone in over night. I grab a lantern, go unplug the house and turn off the generator for the night. Carry the generator into the house so it won't be stolen if someone gets over the 10′ wall with razor wire. Grab my fan and head for the bedroom. I hop into the shower for a tepid shower, which feels good. Then realize I don't have drinking water to brush my teeth. So I grab my toothbrushing water bottle and refill it at the water dispenser in the kitchen. THEN I can brush my teeth. I lay down on the bed with the fan blowing on me and call my husband to pray with him, say good night and turn out the lantern. Just as I'm ready to sleep, someone in the neighborhood, I suspect a local church, starts playing electric guitar, keyboard and singing, off key and not in synch. (It's 11:00PM) I jump up turn on the lantern and search for earplugs. With earplugs in I can still hear it, so I play worship music on my iPad next to my head to drown out the noise and finally fall asleep.
Today I had problems with my water. The well is VERY LOW due to the dry season and though its supposed to be rainy season we haven't had much rain. I have a leak somewhere so my tank of water drained overnight. I didn't have any water today. Pastor Joel tried to extend the water pipe so we could dump water into the tank, but it didn't work. He went and got me some water in buckets from a local well. We will try again tomorrow to fix it.