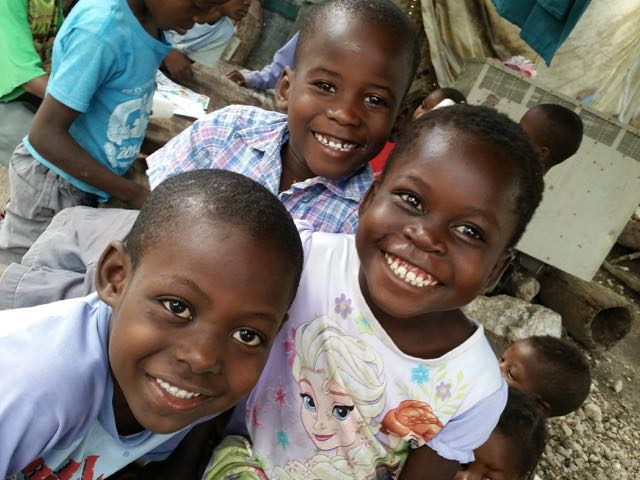 MAY 25-31
The days are going by so quickly and I feel like I haven't accomplished much of anything. Some days are busy and some days are slow, mostly because it's too hot to do much.
Friday May 25
We had to go to St Marc today because we had funds sent to us that we needed to pick up. While we were there Sister Joel was going to go to the market to shop for her family. I got all excited and decided I would tag along and buy some vegetables myself. So I made up my list of what I wanted to get, grabbed my shopping bag, put on sunscreen and grabbed a hat ready to go.
I don't really like the city of St Marc because it's always so busy and dirty with so many motorcycles it's scary to drive around there. But the drive there and back is so beautiful with all the lush tropical growth.
When we got to St Marc, we pulled over at the market and I was ready to hop out when Sister Joel said, "NO! You can't go with me! It will cost me twice as much!" But I was really looking forward to shopping with her… deep sigh… she's right. I probably wouldn't have minded paying a little more for my food, but I couldn't do that to her. Every gourde counts here. So I gave her my list, my bag and my money and she went off to the market. Pastor Joel and I went to the bank and I sat in an air conditioned room on a comfy seat waiting while he got the funds. Hmm… maybe shopping in the hot, sunny, open market wasn't such a good idea after all. I think I got the better end of that deal. When we got home I emptied my bag and found such yummy fresh food! It cost less than $15 for all of it! Score!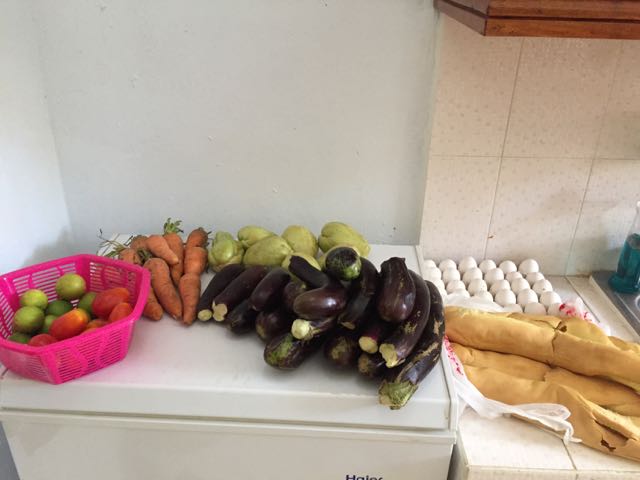 That evening for dinner I made an interesting cross cultural meal. Stuffed bell peppers with Italian pizza sauce, sautèd eggplant and boiled plantain. (the plantain were leftover from a meal Sister Joel had made for me earlier) It was… interesting. Boiled plantain with pizza sauce on them will not be a repeat. But the stuffed peppers and eggplant (especially reheated the next day) was delicious.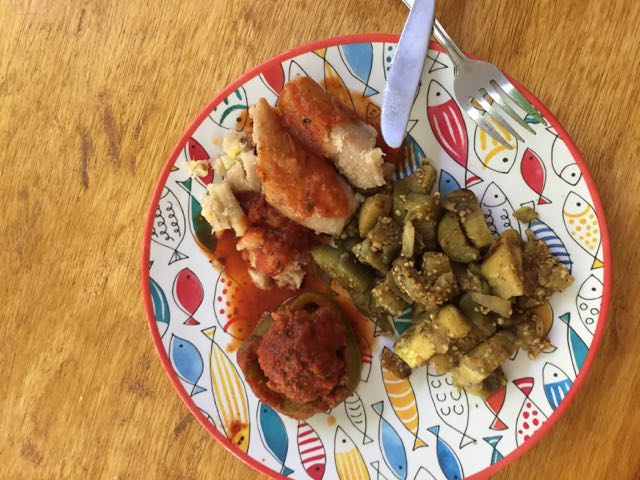 After dinner I printed up the level 2 workbooks and materials for the next adult reading class. We have 7 ladies that have been coming pretty regularly to the level 1 class. Sister Joel is going to give them an exam next week. We will have a little graduation ceremony for those who pass and they will move up to the next level.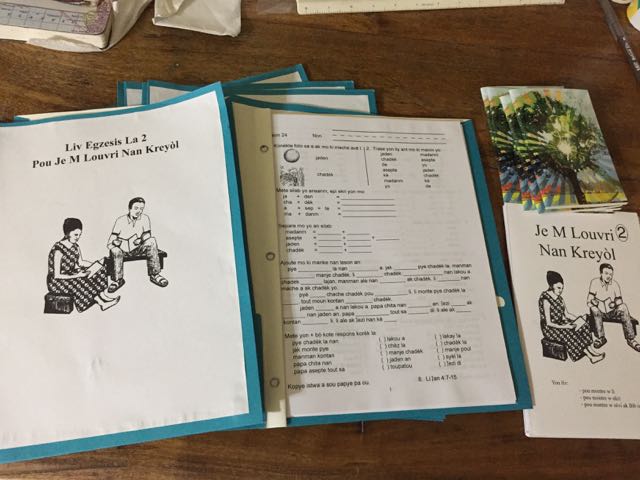 Saturday May 26
I gave Pastor Joel the morning off so he could get some work done at his house. My friend Marcie and her team with "A Light Of Hope Ministries" were going to the Montrouis market place and I really wanted to go along. This time it didn't matter how much it cost it was just for me anyway. So I joined them to walk the market and I bought a machete for the garden work around my house. I had been told I needed one so I bought a very nice one for 400 gds, which is about $6. I was so excited because I got the price down from 500 gds all by myself. It's what everyone expects you to do at the market is to talk them down. They give you a price that is too high, you counter with a price that is lower than you're willing to pay, they counter with a little lower than their original price, you counter with a little higher than your original price until you meet in the middle where you are both satisfied with the price. It's kind of fun! I showed it to Pastor Joel later and he was very impressed with the machete and the price. I dun good!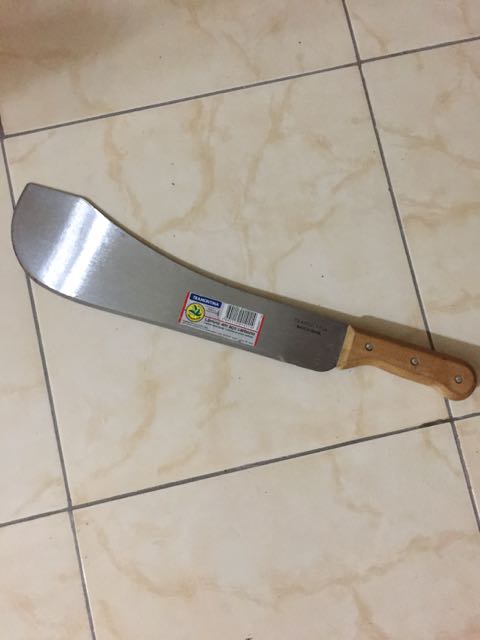 BEACH DAY! In the afternoon, Marcie's team wanted to take the children from Kay Refij to the beach, but they need transportation. So I called Pastor Joel and told him when he is finished with his morning project, change into his swim suit and come pick us up because we're going to the beach! We took only the older children that could handle playing in the water mostly by themselves. (I will take the babies another time when I have a lot of adults along.) We had a great time! Marcie brought swim tubes and I brought beach balls. It was a very nice beach and a fun time for everyone.
Sunday May 27 was a day of rest. I went to church with Pastor Joel's family and then Sister Joel prepared a nice lunch for us. After lunch I went home and rested for the day.
Monday May 28
Every Monday and Thursday I have my yardmen and housekeeper come clean the yard and house. Frere Ilfeveur, my main yardman, saw my machete and said he needed to sharpen it…. I thought it was sharp enough already. But sure why not make it even sharper. After watching him work on my machete for awhile I thought of the scripture, "as iron sharpens iron," I can see how iron really does sharpen iron.
In the evening Julio Simon stopped by my house and told me his wife, Madam Julio, was sick. She is 8 months pregnant, not due until late June, and so we needed to get her to the hospital. I called Pastor Joel and he came right away. He picked up Julio and his wife and took them to the hospital in Pierre Payen that night. The Simon family are very dear friends of mine and I had many praying for her healing. They found an infection and gave her medication to help with the nausea. They also discovered she was dilated 1cm. They kept her overnight for observation.
Tuesday May 29
Pastor Joel was so impressed with my machete he wanted one for his place too. So we went to the Montrouis market again and I showed him where I bought my machete. He struck up a good deal too and now we both have new machetes. While we were walking the market I saw some fabrics and just had to stop and check them out. I ended up buying some pretty African prints. I'll probably make pillows out of them. I just couldn't resist.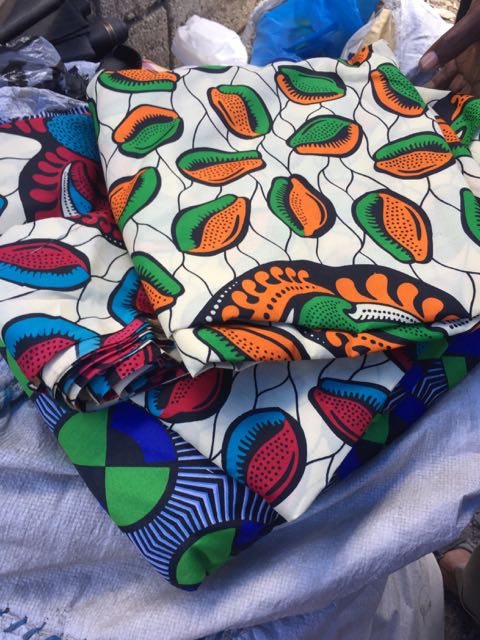 We heard from Julio that Madam Julio was now dilated 6cm and was in labor. We drove up to visit her to see how she was doing. She had been resting but was told to get up and walk. So we walked the halls together for awhile. We talked about babies, our families, and I showed her pictures of my grandchildren. Pastor Joel had an appointment so we had to leave. We left her pacing back and forth.
It's a boy! Madam Julio had her baby about 8:30pm! But because he was premature, and was having difficulty breathing they had to get the baby to St Marc hospital where they had equipment to handle a preemie. Pastor Joel stopped by to tell me the news and to get some money to help cover some of the costs, then rushed to pick up the baby and get to the hospital. Leaving Madam Julio at the Pierre Payen hospital for the night.
Wednesday May 30
The morning started out quiet and slow. It's been so hot here lately it's hard to get moving some days. I had been having back problems the last few days so I had Mackenzia come over and give me a massage. (she trained herself with a book) It helped ease some of the pain. I think I need a new bed.
After my massage Pastor Joel took me and Julio to visit the baby at the hospital. I discovered they did not put him in the public hospital but took him a special pediatric private hospital. He needed more care than the public hospital could give him. I'm actually glad he is here instead. It is better equipped, clean and has a cute decor for children.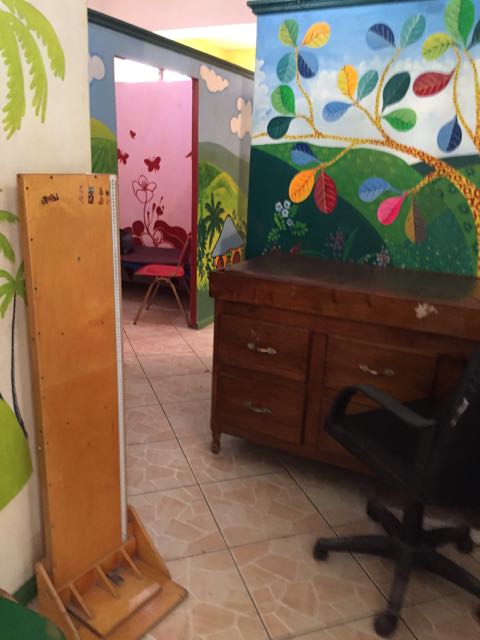 Madam Julio had gone home to recover so they had someone from her church staying with the baby. We brought diapers, wipes and a couple onesies for the baby. His name is Michael Simon. I don't know his weight or anything like that. I just know he's very tiny! But he is breathing on his own now! They will do some tests and may keep him for a few days to be sure he will be able to continue breathing and eating on his own.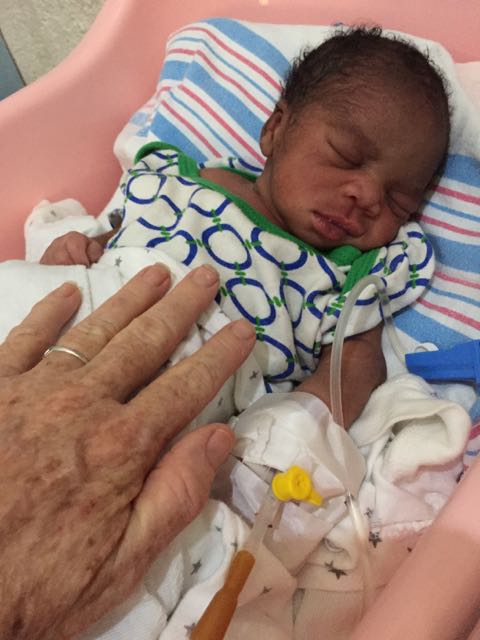 Michael Simon
When we were ready to leave the truck would not start. Ugh! Not this again! We got a jump start and headed back home.
Pastor Joel picked up the Pierre Payen boys for their work class and dropped me off at home. As I said it was a hot day… I fell asleep on the reclining chair. In the evening I did a little paperwork and typed on my blog.
May 31
Our truck was in repair all morning so we didn't go anywhere or do anything. I tried to get some emails done and work on the computer, but internet wasn't working. At this rate the day may be a complete wash.
The truck was fixed by this afternoon so we were able to go do the nursing visits at the orphanages with Sister Joel. She didn't have a whole lot to do because the children at both Kay Rafij and OD DAM were all fine. Praise the Lord!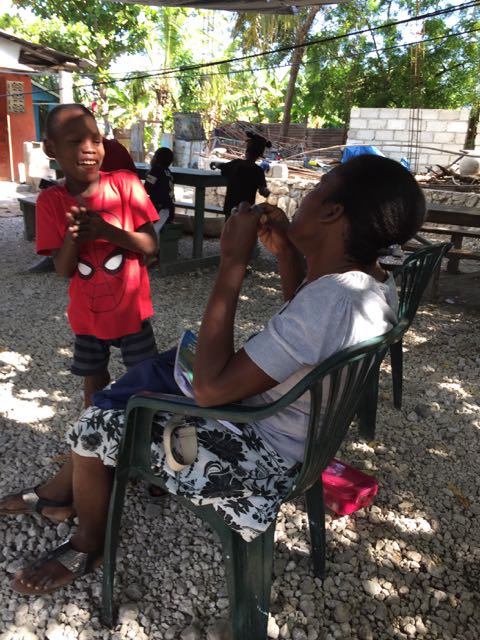 Not a whole lot got done today. But I always enjoy hanging with the children for awhile.
You know some days I feel like I just haven't accomplished a thing. Then as I sit here writing this blog I realize, I may not have gotten anything accomplished, but God was still busy!
MAY 15-14
Well it's been awhile, ten days to be exact! Mostly because of poor internet. Just when I sit down to start opening my blog page the internet doesn't cooperate. I managed to post bits and pieces on our Facebook page, but not everyone is on Facebook. So I better get everyone caught up!
Thursday May 17, I attended more graduations. Pastor Joel's son Jephthah graduated from 8th grade up to High school. I also was able to see little Viliene Garcon graduate from ABCs class.
Bon fet drapo!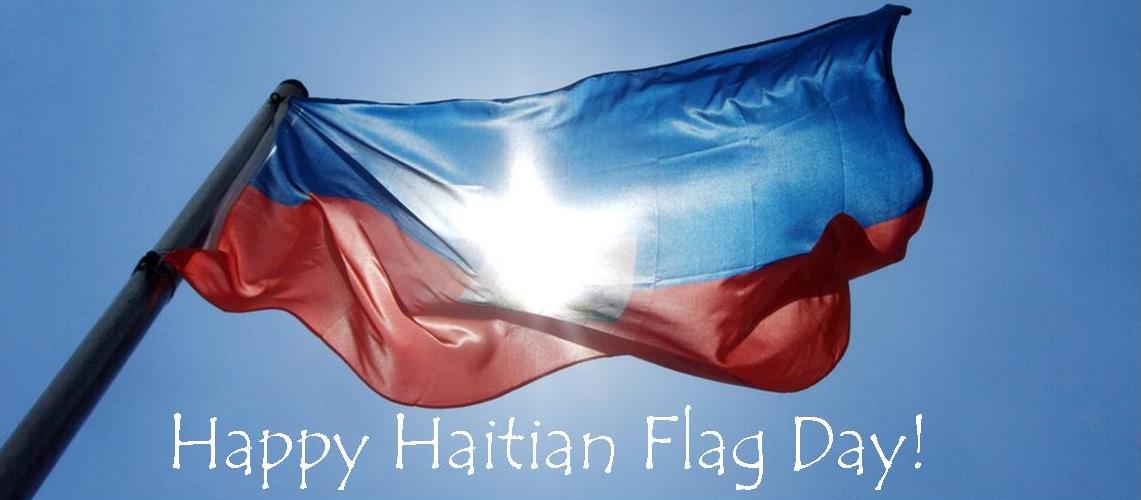 May 18 is Haiti's Flag day and they go all out! Haiti celebrates flag day with parades, bands, and lots of parties! We had a whole school parade by the house. It's a day I would rather stay home just because I don't care for the crowds. I only ventured out for a short while.
Saturday May 19 Feed My Sheep Ministries had a Karaoke Party. Missionaries just gotta let off steam once in awhile. We had lots of fun and it is always good to connect with others ministering in the same area. Good food, Good company, Good time.
Sunday May 20 the "English Church" had church at the Beach. The local missionaries have Beach Church one Sunday a month when they hold a church service at the beach. It was so nice to worship the Lord in a beautiful open air environment with nice breezes from the ocean. Pastor Joel and his wife joined me and they enjoyed it too. After church we went to lunch with Bev & Richard Felmey at Stop Over. We enjoyed a relaxed time of visitng. In the afternoon I took a nice much needed nap. It was a wonderful day of rest in the Lord.
Monday May 21 Pastor Joel brought food boxes over and left them for me to sort into bags for the families while he ran some errands. When he returned we loaded up the truck and went visitng families. I like to take time and visit with the families so we only made it to three of the families, and Ruben Joseph was one of them. I was so happy to see Ruben sitting up on his bed and very animated! He had been bed ridden for so long and so frail. He was doing amazingly well! It did my heart good.
After our visit with the three families it was time to go get the boys from Pierre Payen orphanage for their carpentry class. I went along to see how the class is coming along. We drove as far as the river to meet the boys. On our way we came across this little guy trying to get his horse to haul the heavy load up to his home. The bags of beans and rice were not cooperating, they fell off. Pastor Joel stopped to help him get his load back on the horse.
Pastor Joel and the boys have been hired by A Light of Hope ministries to remodel an empty room into a discipleship training school. They partitioned off a part for housing the supervisor and students. And made beds for them. When I was there they were preparing the windows for screening. They're learning a lot!
May 22 more food deliveries and family visits! We had to pick the hottest day so far to deliver Manna packs to the families. It was SO HOT we were exhausted from only a few visits! We sat to visit with each family and I enjoyed catching up to see how they are doing. I'm happy to say that for the most part everyone is doing well. Again we only made it to three of the families and Rosemytho and her baby were one of the families. Rosemytho is a single mother trying to care for her child. We discussed helping her start a micro business like selling clothing. Oh how I wish our shuttle bus was here already! We have lots of clothing we could give her for her business. But it's not, so the next best thing is to help her buy a big of clothing so she can start her business. This way she can sell on the side of the street, and care for her baby at the same time. For only $250 we can get her started in a good business venture. BUT before I do that we are going to test her math skills and teach her a little about business management.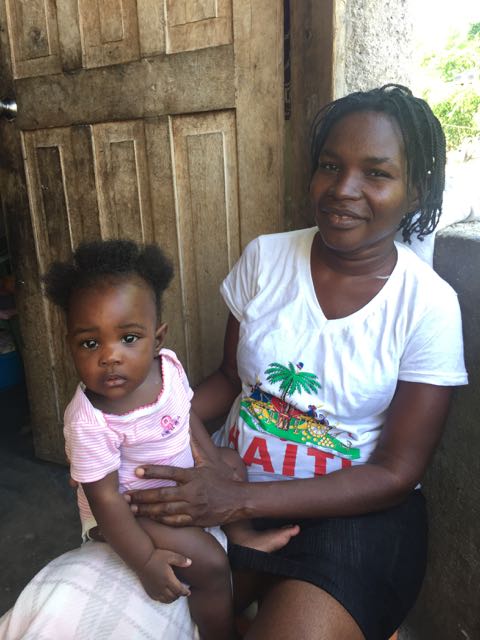 We had to go back to the house to meet Chemene Gabrielle, from St Marc, who is finishing up her teaching degree. We got back in time and waited for her to come. While we waited Pastor Joel fell asleep on the recliner and I dozed off a bit myself. For the first time I was glad someone was an hour late. It was a much needed nap. It was so nice to visit with Chemene. She always brings something from her classes to show me. Today it was random things you can use to teach colors and separation of objects. She explained to us how to use colored bottle caps, checkers and legos to teach different colors and different uses for the items. I love the way they recycle things like the bottle caps. Chemene will be graduating from her teacher's college in July. She is so happy and appreciative for all the help we have been able to give her to finish her schooling. She only needs $125 for her last installment which includes her graduation. I'm praying for the Lord to provide the balance for her. She's so close to finishing!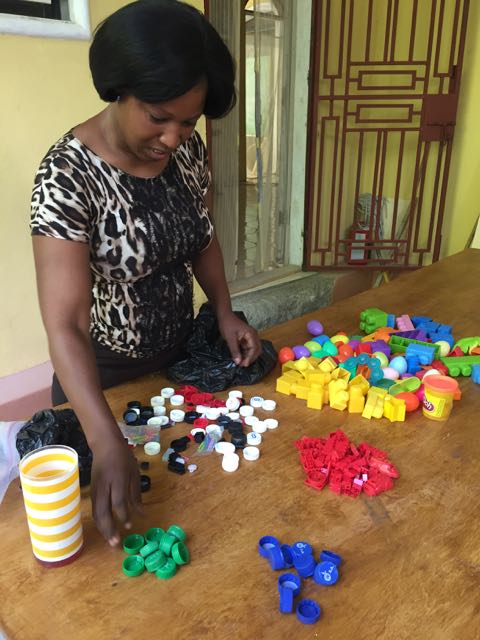 After Chemene left we went out to do a couple more food delivieries. We visited my dear friend Madam Julio and her family. She is expecting another child in June. And I was very happy to see Madam Antoine doing well. She is still not completely healed of her TB, but she is SO much better! She will continue on her treatment program until she is completely healed.
Wednesday May 23 Adventure Day!! We drove to Port au Prince to pick up Marcie of "A Light of Hope" ministries with her team at the airport. But first we had to have a little adventure. We had to go farther into the city and out the other side to Thomassin to pick up some furniture that Marcie had purchased for her discipleship school. And it was an adventure! It was extremely hot and the traffic was so bad we were stuck in traffic for hours at a time several times! At one point we were sitting in traffic at a dead stop, waiting a long time while police checked everyone's paperwork. When we start barely moving a HUGE truck is so close to us I'm concerned about the side mirror getting knocked off. The contest begins! Inch by inch, (or I should say centimeter by centimeter) we're vying for position in line. Ok who's going to win this one? Pastor Joel is determined it's going to be him. Normally I would say big truck wins… but then again Pastor Joel is driving… but then there comes a vehicle trying to make a turn across our lane into an industrial park… blocking traffic both ways. The big truck pushes dangerously close to us now. Big truck wins by default when Pastor Joel backed off. Safety first for Pastor Joel… and that's why he's my driver!
A trip to Thomassin on a good day should have taken us three hours. We left at 8:30am and arrived to pick up furniture at 1pm. It was crazy! Then we had the wrong address and couldn't find the house. Finally we reached the owner and discovered we were on the street behind her house. (Google maps HUH!) That wasn't even the end of the adventure. Then Pastor Joel had to back down this skinny, really not there, road down a hill and around a curve and through a skinny gate to the house. And he did it no problem! We loaded up the furniture strapped it down and headed back through all the traffic to the airport. Fortunately it wasn't as heavy a traffic as coming in to Port.
We just made it back to the airport in time to pick up Marcie and team at 3:30pm then quickly shopped and headed for Montrouis. It was almost 8pm by the time I got home. A long day!
Thursday May 24 we finished up the last of our food deliveries and family visits today. It was another hot day and we were happy to be finished by 2pm. But we enjoyed our visits with our families. Saintilia is my age and she lives up the mountain. It's quite a hike up! She was happy to see us as she had been sick with a cough. We prayed for her and encouraged her to get to the local clinic soon. We stopped by the house of Louis St Vius to visit the family. Only his wife was home children were still in school and Louis was out with a friend getting supplies for their home. I was pleasantly surprised to see he had added onto his house! This man amazes me! He's blind, and he laid the block himself. He had a brother assist him, but he did the work. Amazing!
David Louissaint's family lives even far up another mountain and it's a hard climb. So we asked them to come to us to pick up the food. David and his father came. David is growing up so fast. He's 17 years old now! It was nice to chat with him and his father. David's mother just had another baby, a boy. I guess I will have to make the attempt and hike up the mountain to see the new baby sometime soon. It's the neighborly thing to do.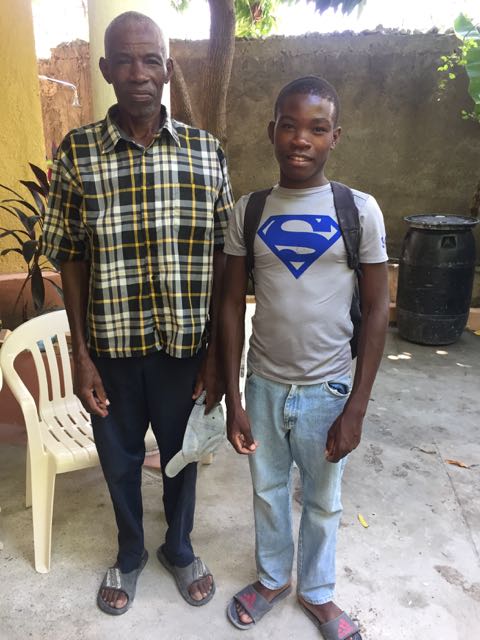 It was another hot day so I rested while Pastor Joel left to go pick up Sister Joel to do her nursing rounds. They came and got me and we went to Mackenzia's orphanage first. The children are fairly healthy, some have a little cough. I'm happy to report that Fedson's foot is healing well.
Then we went over to Kay Refij to check up on the little ones there. They seem to be pretty healthy and happy too. As I was standing there watching Sister Joel ministering medical care to the children one little one came over to me and wrapped her little arms around my leg. Then she took my skirt and wrapped it around her little body as if to say, "you aren't moving without me lady." I looked into those sweet little eyes, how could I resist? I picked her up and held her the rest of our visit.
I'm happy to report that in general, the children at the orphanages are doing pretty well and our families are too. It's a good feeling to know the work you're doing actually is making a difference.