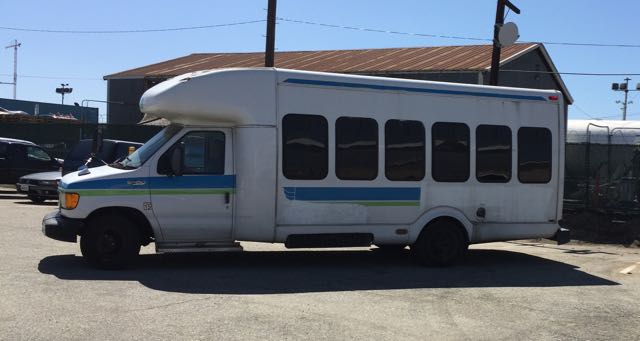 JANUARY 2019
Well the bus has been sitting in our driveway for the last few months waiting for us to make a decision on what to do with it. We had battery issues so we removed them and charged them up real well. And it's a good thing we did! Our truck broke down and we had to go to Gonaives to pick up a child from the hospital. So we took a road trip and drove the bus all the way there and back. It drove well and driving it charged the batteries well too. We are seriously considering keeping it and using it for field trips for the orphanage children as well as possibly hiring out to pick up other ministry teams from the airport. Please pray with us to make the right decision.
SEPTEMBER- NOVEMBER 2018
Remember the shuttle bus we've been trying to ship to Haiti for over a year? We were blessed with a considerable donation so we were able to finally ship the bus! Scott Schmeckpeper and Steve Denning drove it across country loaded with supplies, which can make it a bit tricky to drive.
The shuttle bus made it to the port within the week, ready for shipping
.
It took a couple months, but the shuttle bus arrived safely in Haiti!! Finally! It was a long time coming. Pastor Joel had a challenge getting it in to our driveway. But it's home now. Praise the Lord!
We spent one day unloading it all into our house. Then Pastor Joel and our mechanic Claudel spent some time cleaning it. It will sit in our driveway until we decide what to do next.
We are praying about whether to sell it or keep it. Both are good options. Please pray with us on what to do.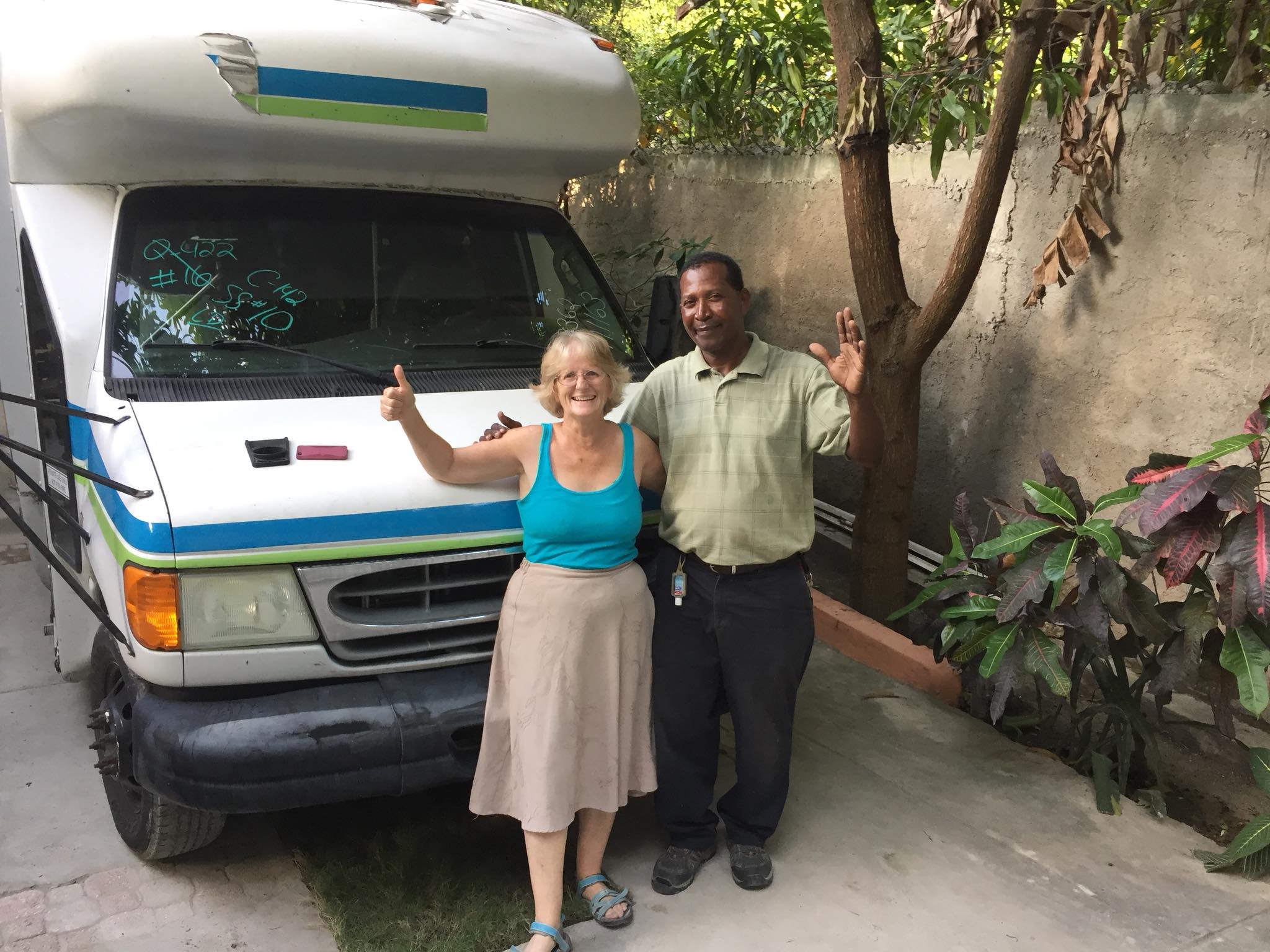 APRIL 2018
We did it! Scott and I loaded the bus with the last of our donations! Now the bus is loaded to the gills!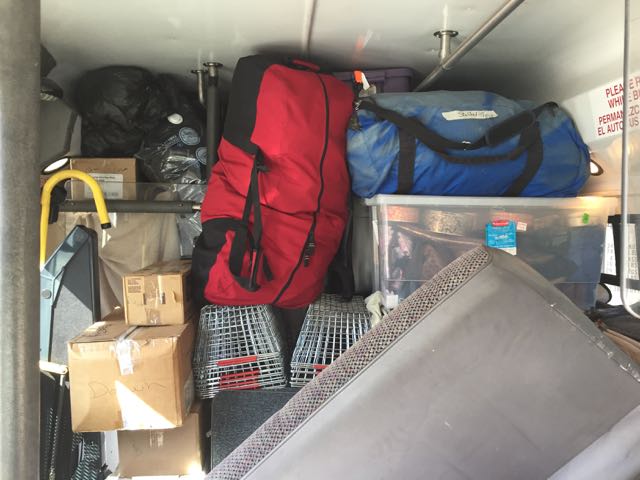 We are moving forward on getting this shuttle bus shipped! It has been a whole year since we purchased it and it has been sitting in a shipyard lot waiting for us to ship it. We have been slowly loading it with supplies of all kinds. We have clothing, shoes, medical supplies, tools, bedding, solar panels, a drum set and much more! All items have been donated and it would be a waste not to ship them. We estimate about $2500 to drive it to Florida, another $2500 to ship to Haiti, $7000 in customs, duty and registration in Haiti for a TOTAL of $12,000. We have hopes to ship it by May 1. We are proceeding forward as if the funds are here already, but they just aren't.
Can you help us get this bus to Haiti? If you can help DONATE HERE Or send a check to United Hearts Haiti, PO Box 98, Avalon, CA 90704. Please Note that your donation is for Shipping the Bus. PLEASE PRAY with us for the funds to come in so the bus can be shipped.
AUGUST 2017
We have paid all of our repair bills for the bus! Thank you Jesus and all who donated! We are still wait for the Lord's provision for shipping the bus to Haiti. Shipping it in September is not happening. We will continue to fill it with donations and prepare it for shipping in hopes that the Lord will ship it to Haiti by January now.
Shipping is expected to cost up to $13,000. Would you like to help ship this bus to Haiti?
You can make your donation online, just DONATE HERE , or you can mail a check to United Hearts Haiti, PO Box 98, Avalon, CA 90704. Please be sure to note it is for the shuttle bus.
PREVIOUSLY
Currently we are filling the bus with all kinds of donations, from solar panels to clothing and shoes. We still owe $850 for our repairs bill. We were quoted $13,000 for driving it to Florida, shipping on the Monarch queen, customs, duty taxes and registration of the vehicle in Haiti. YIKES! We are praying the cost will come down some. We have NONE of the funds for shipping yet. Please pray we get all we need to send this bus full of donations to Haiti. Our hope is to drive it to Florida from September 16-22, then ship it on September 22. But it won't be going anywhere until the Lord provides the funds. Please pray for the Lord's provision.
In the meantime we continue to pack the bus full of donations.
The shuttle bus has been repaired and is ready to be filled with donations. The total cost of repairs was $5005! We raised $3075 for repairs and are still in need of $1930 to pay our bill. The shuttle is sitting in a church parking lot at the moment, but it needs to be moved to a more secure place before we can load it. We hope to have it moved and start loading it next week. If you would like to help us pay off our repair bill, DONATE HERE or you can mail a check to United Hearts Haiti, PO Box 98, Avalon, CA 90704. Please note that your donation is for the shuttle bus. If you can't donate, we'd appreciate your prayers for provision, a successful transfer and loading.
Hello my friends,
We won the auction for the shuttle bus! The Lord knew I was going to need at least $5000 to get this vehicle and so that is the ceiling of what I was willing to bid. He also knows my ignorance on all the little extra costs. Our winning bid is $2750! Our total cost to drive it off the lot is $3973.91. That includes taxes, sellers fees, DMV registration fees etc. We will need a few repairs done, including two new batteries, and get insurance coverage on it to make it drivable cross country, That will bring the total to about $5000. We have $5150. committed! Our Lord knows exactly how much we need so I'm sure I'm missing something. I'm always amazed when the Lord does things like this! I hope I never stop being in awe of Him!
I want to thank all who made a pledge to assist us in this purchase! I will need the funds tomorrow, Monday, because we will need to pick it up and take it to the repair shop. How would you like to cover your commitment? You can make your donation online, just DONATE HERE , or you can drop by with a check to United Hearts. Please email me and let me know what you would like to do.
Thank you for your generous donation and for praying for the shuttle bus. Please continue to pray for us in this new adventure with the Lord!
May God bless you!
Darlene Schmeckpeper
At First;
Hello my friends,
I have a special request for all of you. This Saturday, April 1, Scott and I will be attending a vehicle auction in Carson. Our vision is to bid on a vehicle large enough and strong enough to carry a load of supplies from California to Florida. We then plan to put the vehicle and supplies on the Monarch Queen container ship and send both to Haiti. The supplies will include the many generous donations so many of you have offered or already given. We also hope to ship a generator and solar panels to provide power for the new ministry team house.
We are focused on a particular vehicle, a 15 passenger shuttle bus, but open to what ever God leads us towards. We believe the shuttle bus could not only transport the materials we wish to ship, but also would be a profitably salable vehicle to other organizations in need of large group transport. Once sold, we envision using the funds towards purchase of a 4WD truck to match our ministry needs.
A big dream with lots of "ifs"? Yes, it certainly is that. But it also is a well prayed over plan we believe God is leading step by step. We step forward in faith trusting His path will guide us.
Now what is your part of all this? First of all prayer. We need your prayer support. Every step of the way we need that support as God has chosen to use prayer as His vehicle to carry answers to His people.
We would also like to ask of you who are able to join us with a pledge of financial support for this particular project. We believe we can secure the vehicle for around $5000 at the auction. We will need another $5000 for transport across country then on to Haiti and for custom duties in country. Right now we just seek people who will pledge to support the purchase at auction. If we win the auction on Saturday, April 1st, we will need to pay for the vehicle by 5:00 pm on Monday, April 3rd. We would need any pledges to be fulfilled that day. We're not asking for money today only your pledge of support. We do not want to take money for this until we are sure we can secure the vehicle at auction.
Thank you for your time and consideration of this request. Thank you for all your support in the past. If you want to make a pledge please send me an email at unitedheartso@yahoo.com
These are a couple other options for vehicles to buy to haul our donations.
Blessings,
Darlene Schmeckpeper