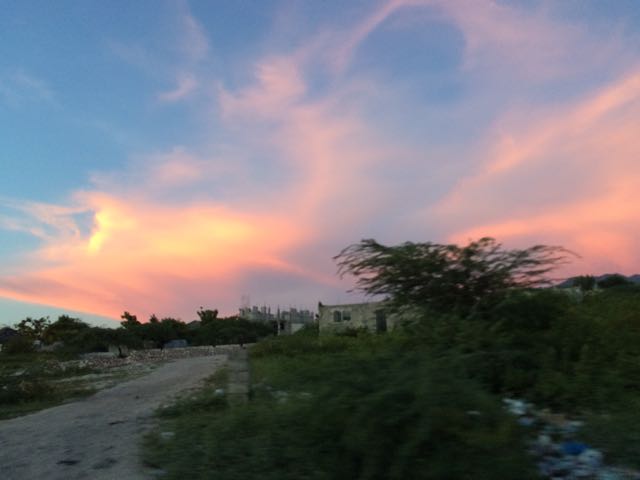 Home on Catalina Island
I'm back home on Catalina Island now. I almost made it home without incident, almost! Now, I have been hiking all over the Montrouis area in Haiti, hiking up washed out ravines, following cactus lined goat trails, climbing up the sides of mountains, not once did I fall. I am hurrying to catch the boat pulling a suitcase along a flat cement sidewalk and I trip and fall landing on my left hand! There happened to be a slight rise in the cement of about 1/2″ but it was enough to
trip me up. My left hand was severely sore and swollen but I made it on the boat! We iced it on the boat and I went to the medical clinic as soon as we got off the boat. I had an x-ray done on my wrist and hand. No breaks that the doctor could see, just very sore. (Yay! My record for no broken bones still stands!) I now have a brace on it and need to keep it elevated. It already is feeling much better. My body is achy from the fall, but nothing debilitating. Well, it gives me an excuse to sit around for a few days and recover. Thank you to all who were praying for me.
Day 40
Sorry I haven't been able to post yesterday. My power was minimal and internet impossible! Home sweet Haiti home! We're in Fort Lauderdale, FL now on a layover until we fly to LAX tonight.
Yesterday I was able to organize and get my house more in order while Scott did a few projects around the house. One of our projects was to put screening in an archway over the patio door. I had to sew the screening around a piece of PVC pipe. All of this in between visits from friends and
ministry needs. My last day in Haiti is always full with last minute needs and conversations. Add that to trying to get organized and packed to leave. It was crazy! But what a blessing to have my friends come to visit! Titi and Solanje stopped over for a bit. Richard and Beverly Felmey came over to see our new place, then Joel Museau's family came over and Jean Samul Fedelus' family came to visit too! I am so blessed to have such precious relationships here! I look forward to having them all over again when I return in May.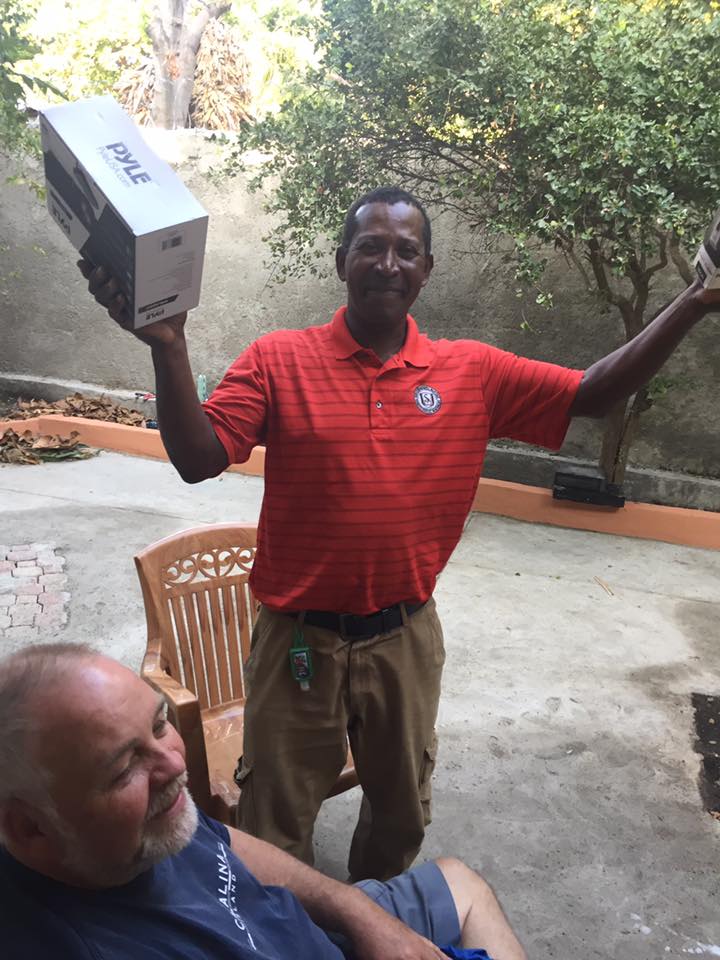 Pastor Joel was so excited! Scott had brought him a projector for his church to show the Jesus movie to crowds and share the gospel. Now we just need a small silent generator to power it, $600usd to buy it in Haiti.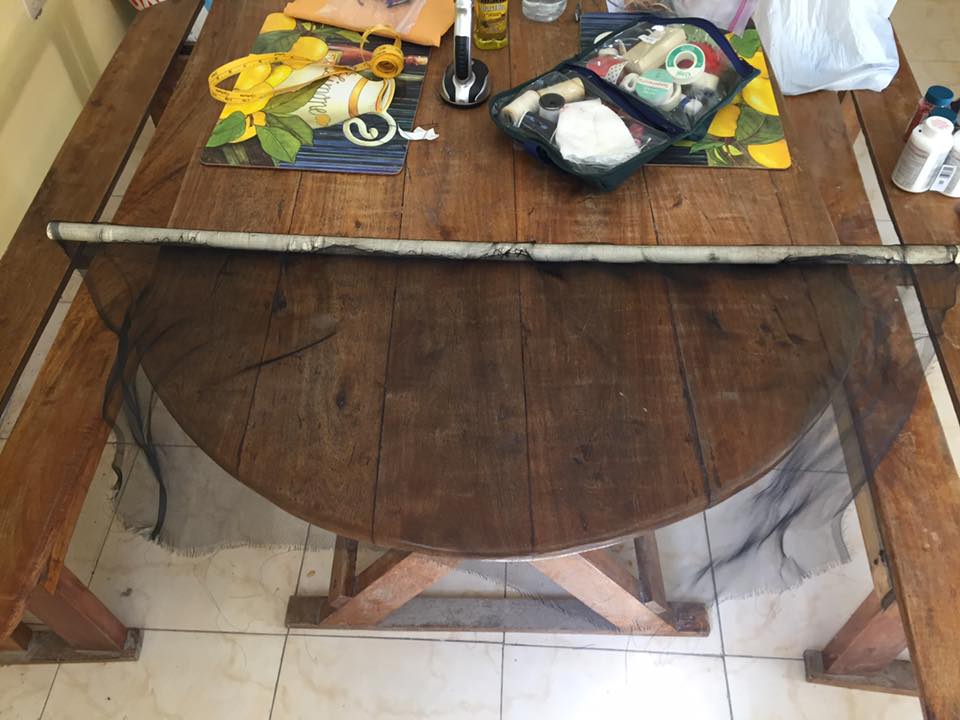 My horrible sewing job. That screening is slippery!
I gave Pastor Joel and Pastor Sammy solar powered Creole audio Bibles and Gospels of John in Creole for their ministries.
My table can seat 8 comfortably.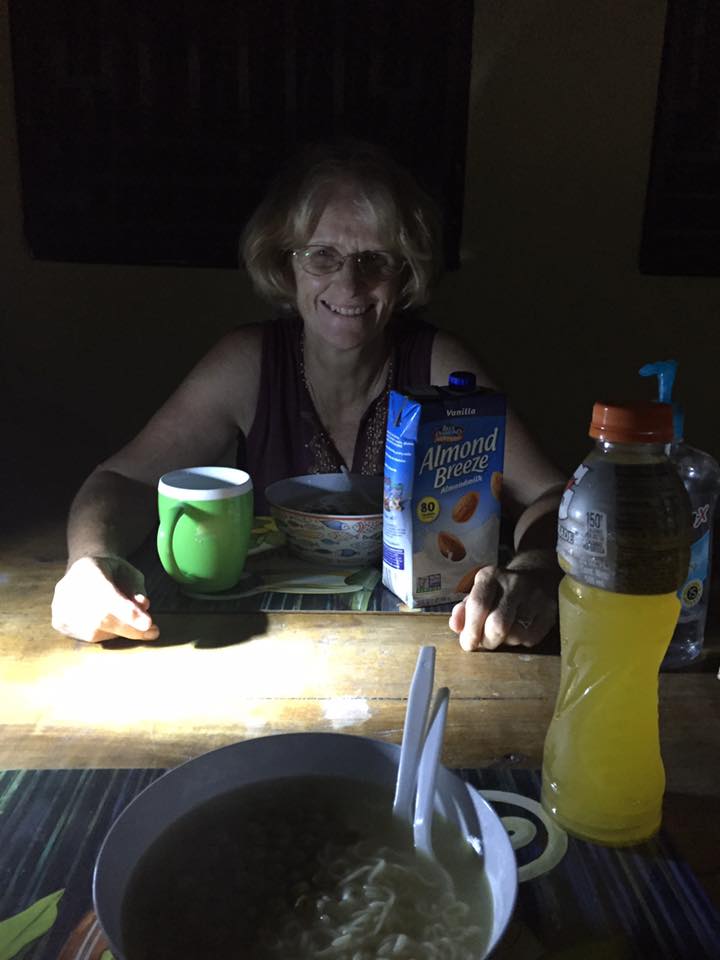 Our last meal, ramen noodle soup with peas and Vienna sausages in it. Oh yum.
Day 39
Today is the Lord's day. A day of worship and rest. We went to Pastor Joel's church, my Haitian church. Pastor Joel asked Scott to preach. Then Sister Joel, Rosemene, invited us to have lunch with their family. It was a very relaxed enjoyable visit, good food, good fellowship. It was a joy to sit afterwards talking with them and listening to their children laughing, joking, and just being children. It felt like family.
Our time at the guesthouse was finished so we packed up everything and moved into our house. We don't have a generator to power our house or pump water into the tank on the roof. But we have solar lighting and buckets of water drawn from the well.
Once we arrived we discovered that the house leaks. After it rained last night there were some big puddles in the kitchen and in the bedroom next to it. It is somehow coming in from the area of the door to the roof. We did a lot of mopping up and Pastor Joel shoveled some sand away from the door on the roof to try to get the rain not to puddle there. We'll see how well it works.
I got into the nesting mood and started settling in while Scott started putting things together like my cook stove and our solar lighting. I bought this nifty inverter unit that will power two lights and charge our phones so he rigged it so we have light in the living room and the hallway. I have a lantern for the bedroom and two battery operated fans. Pastor Joel hauled buckets of water to both bathrooms so we can bathe and flush toilets. We may be roughing it by American standards, but it's still luxurious by Haitian standards. Home sweet home!
Day 38
Today we went to my house and packed up bags of food to take to our sponsored families. While we were there I ate my first mango from the mango tree in my yard. We loaded up the food and went from family to family delivering food and their sponsorship funds. Scott was blessed to see a few people he remembered from previous times like Fladens. He used to ride on Scott's shoulders when he was younger, now he's as tall as Scott!
We went to visit Remy and Cristela, baby Chadnaica
's family. We had delivered bakery supplies and a wheelbarrow to them last week. When we got there they had just finished baking their first batch of bread! They blessed us with some of their first fruits. Yum! They are in need of new baking sheets and some help. We gave them funds to hire three men for the next three days to get them through Carnival. Carnival is a good time to sell fresh bread so we are praying they will find good workers to hire so they can bake and sell a lot of bread for Carnival.
On our hikes we met a few new people who are in need. One is a young lady who left her job and everything to come live here near her boyfriend. Now she is pregnant but the boyfriend is not taking responsibility. She is stranded. Pastor Joel's church is ministering to her spiritual needs. I would like to minister to her physical needs by getting her a sponsorship to help her through this difficult time.
We also visited a mother of three who's husband is in jail. She had a stroke 5 years ago and a baby 5 months ago. She is in desperate need. We hope to get her a sponsorship too. Please pray with us for these people who so desperately need Jesus to show up in tangible ways right now.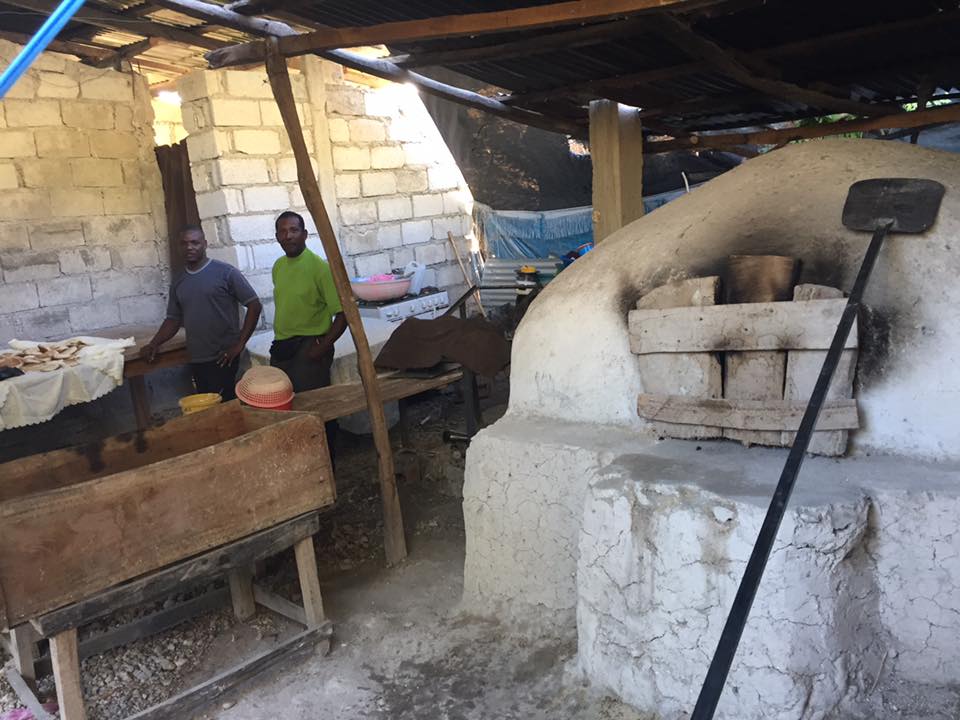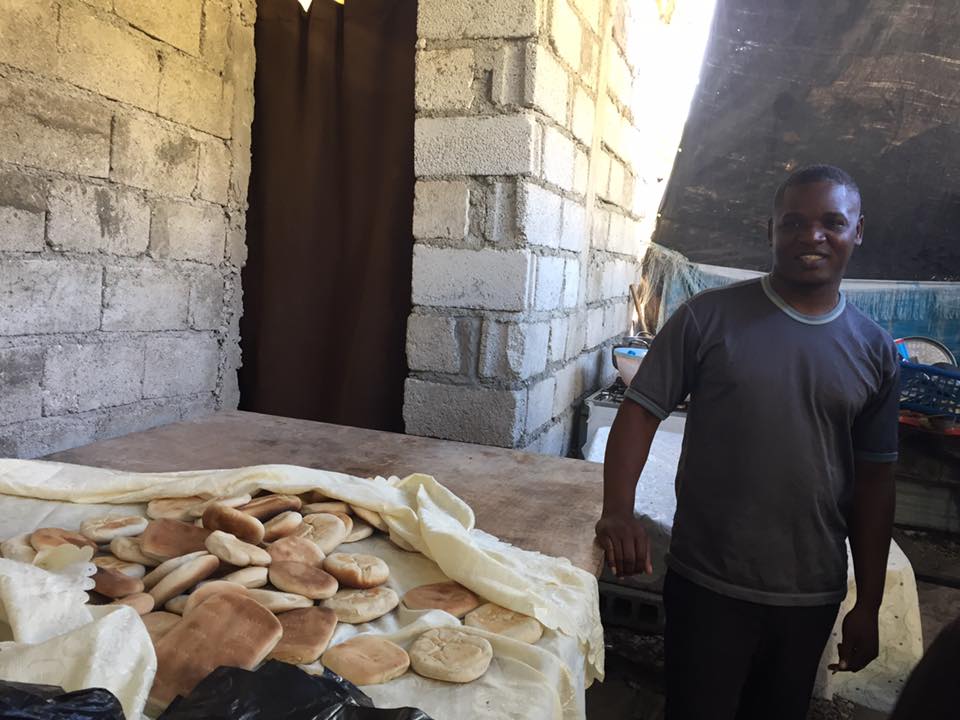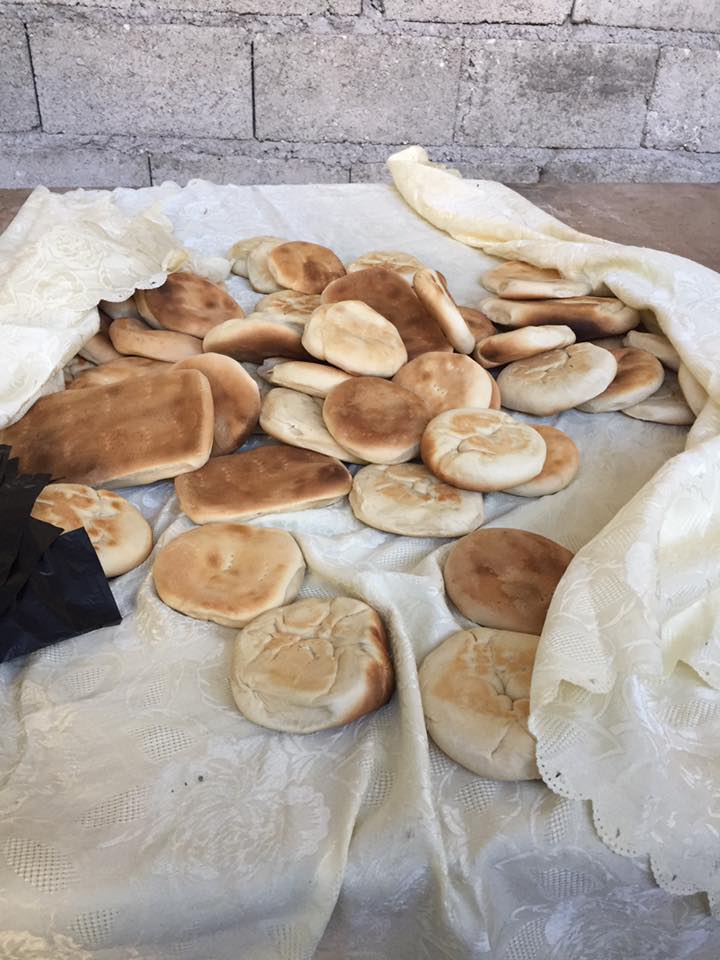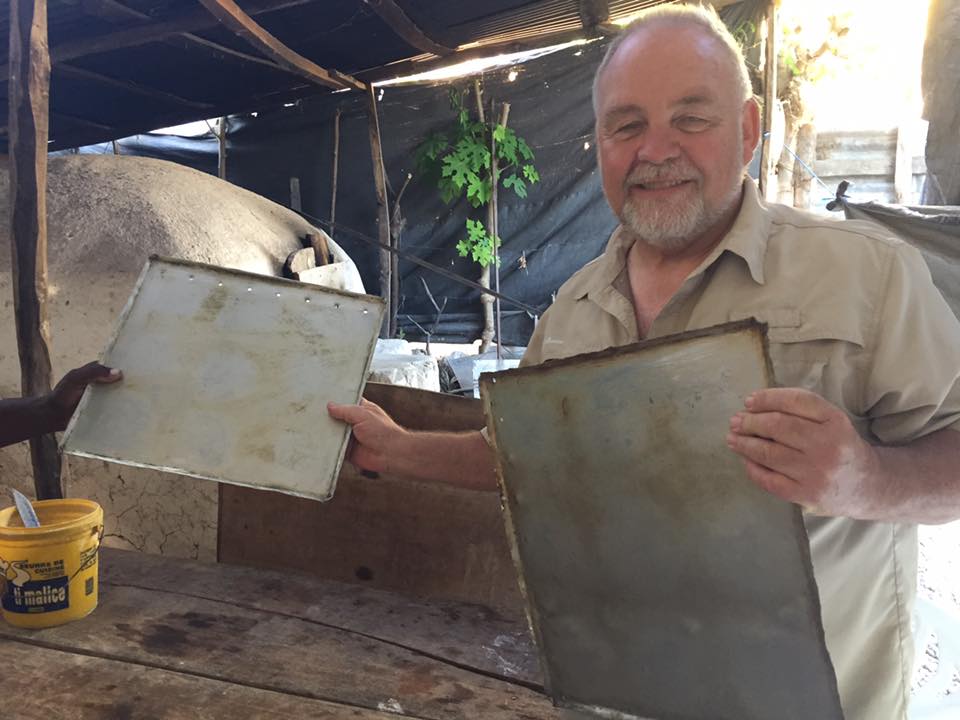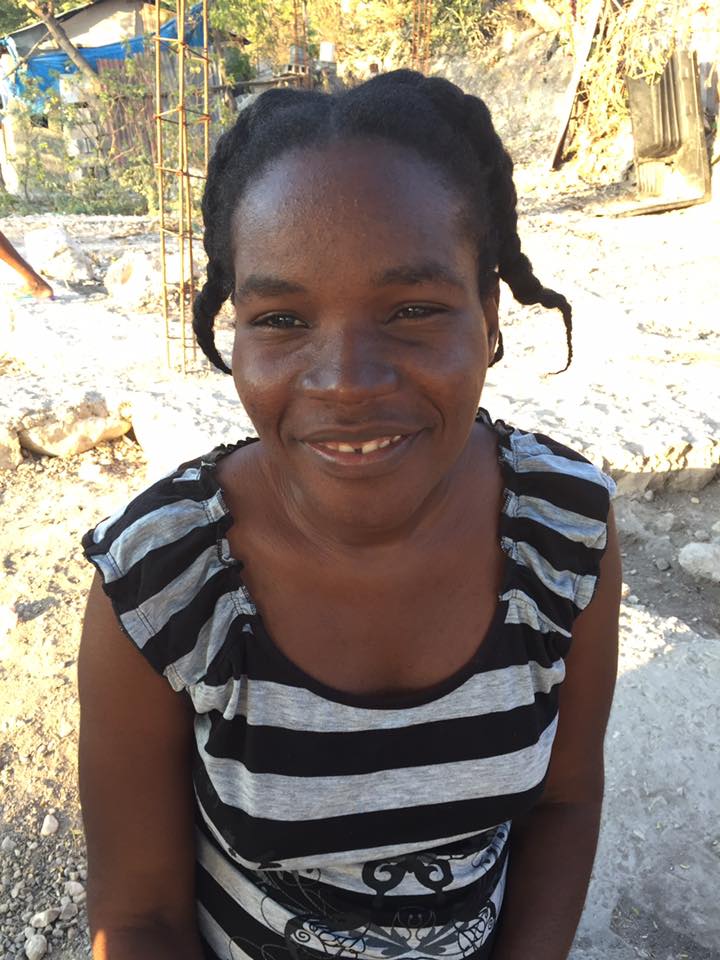 We tried to encourage Rosemyrtho and let her know that Jesus has not forsaken her. He will provide all her needs.
Julien Fonia's family, Mikenson 13, Jasmine 8, Julian and baby Adonis 5mos.
Day 37
Harbor Trinity Church group had to go home today. But before they left they helped me pack up all the wedding dresses and suits into 6 suitcases to send to Les Cayes. We had one more bride-to-be come pick out a dress. Jimmy's fiancé, Kairine, chose a beautiful dress that fits her petite body so well.
We loaded up the truck with 10 suitcases, 4 carry ons, and 9 people, then headed for the Port au Prince airport. The drive went well and we had them there early!
After saying our
good byes we drove into the heart of Port au Prince to deliver the wedding clothes to Pastor Sony who was waiting for us at the bus station. While they unloaded all six suitcases, I labeled them United Hearts with a sharpie so he would know which to take when he got to Les Cayes. Carnival is happening this weekend so traffic in Port was horrible. We had to take a different route to get there and it took us through some nasty areas of town. We even went by the iron market again. It took us all afternoon to get out of Port. We didn't get back to Montrouis until 7pm! It's been a long day.
Day 36
This has been a great week! The Harbor Trinity Church team has been such a blessing! They're the fastest painting group I've seen yet! They have their system down. Today they wanted to bless me by painting the kitchen in the house I just rented. We had enough white and sky blue to paint my whole kitchen and ceiling! It looks so pretty!! While they painted I set up all the wedding dresses on my porch, and suits and accessories in the room next to it. It looked like a bridal shop Haitian style!
We decided to bless a few of the local ladies and men that were planning on getting married within the next few months. So we had the ladies come over and choose the dress they liked and fit. The men chose suits. We had one father of the bride along so he chose his suit and a bride chose an evening gown for her mother and God mother. We have one more lady tomorrow morning to choose a dress then we will pack it all up and take the rest to Port to meet Pastor Sony so he can take them to Les Cayes. Pastor Sony's church is going to hold a multi-wedding. They will marry 20 couples all at the same time. Then they will have refreshments for the guests. This helps those who can not afford a wedding. It's nice to supply some dresses and suits for this important event.
After the team finished painting Pastor Joel took them to the snack shop to get food and cool off in the air conditioning while I started to set up my house a little.
The team returned and went for a swim in the Caribbean, but it was rough seas! They went in anyway and enjoyed the nice warm water.
When they returned the vendors were here to sell some typical Haitian artwork. The team enjoyed "shopping" and got some nice things. We got back to the guesthouse in time to enjoy their last delicious Creole dinner. Tomorrow morning the team will pack it up and we will drive to the Port au Prince airport to send them back home.
Day 15
Nothing fun or exciting happening today, it was all business. I never even left the compound today. Our truck was in for it's quarterly maintenance and it takes a good part of the day for this. (Don't ask me why, nothing moves fast in Haiti) So I spent some good time with the Lord praying and then worked on paperwork for awhile. Pastor Joel stopped by and we discussed what positions I will need to hire for my house (security, caretaker etc, all necessary in Haiti) and some recommendations he had for me. We will do some interviewing in the next few days. Then he left for some appointments, so I took a nap. I was having some pain in the left side of my back most of the day. But I seemed to have slept it off I feel better now. Tomorrow we have plans to go to Port au Prince to check on prices for mattresses for the orphanages and pick up food boxes. Please pray for a safe and successful trip.
Day 14
Today was a slow day. Pastor Joel and I did some planning for next week then went to the container to pick up some items for my friends. We went to visit Madam Julio and baby Eliezar. I had some baby boy clothes that would fit him so we dropped it off and left a doll for Ania. She was still in school. Then we visited the Milot family to see how the boys were doing. We sent them to the doctor and wanted to know how it went. They both have medicine and are recovering well. Robenji did not need an inhaler which was good to hear.
We visited my dear friends, Sammy and Rosie, and their children. We had such a nice visit I forgot to take pictures.
Then we went over to the house I'm renting with Guerschom my electrical expert to go over what I would need to generate a power source. It will cost about $4000 for a generator, 8 batteries, an inverter and wiring. That is not a solar system, just a generator system. A solar system will be more. I will need to build an enclosure to protect it all at the cost of about $500.
In Haiti you usually have to provide your own power and water when you rent a house. I knew this was going to be an expense, but one I know I can not afford right now. I don't have that kind of money so I will be buying a couple solar lanterns and a small solar inverter for about $200 total, and use that until the Lord provides for a full system.
We haven't signed the rental agreement yet, because the house is not ready yet. We will be interviewing people for security and caretaker positions tomorrow.
I'd appreciate your prayers for the Lord's provision for the power and for guidance for hiring people. This is one bonus of renting a house, I am adding to the economy by providing a few jobs to Haitians in need of work.
Day 13
I have some exciting news! I will be renting a house here in Montrouis, Haiti!
A while back God gave me Isaiah 54:2-3 "Enlarge the place of your tent, stretch your tent curtains wide, do not hold back; lengthen your cords, strengthen your stakes. For you will spread out to the right and to the left;…." I've been asking him exactly what He means by this? What does that look like for the ministry? I've been watching and waiting on Him. Then He gave me Jeremiah 29:5 &7 "Build houses and settle down; plant gardens and eat what they produce….. Also, seek the peace and prosperity of the city to which I have carried you into exile. Pray to the Lord for it, because if it prospers, you too will prosper."
The Lord has been telling me I need to make a commitment to the land. He told me I am no longer a guest or a visitor.
At the same time changes were happening with Feed My Sheep Ministries, the guesthouse where I have been staying for the last 6 years when I come to Haiti. They have now merged with another ministry and have moved to another location.
Richard N Bev Felmey
are dear friends and have been very loving and generous with me all these years and I was happy to just follow them over to the new place and continue staying with them as I always have done. (As a matter of fact I am here in their home with them now.) But that's not what the Lord had in mind. He has been pushing me out to stand on my own. I finally relented and started looking for a place to rent in November. Even though the scripture said to "build houses," there is no way for me to do this right now. I need a Permis de Sejour, which is basically a resident visa. I have not needed this because I do not live in Haiti and am not in country more than 3 months at a time. I will be looking into getting one while I am here this trip and will probably start the process. With the Permis, I am no longer a visitor. In the meantime as I said, I am feeling pushed by the Lord so I am renting a house which is saying "I am committed to this land" as best as I can right now. I don't know where the Lord will take it from there.
So I found a cute little house to rent in a neighborhood I love. I know and like all my neighbors. I can walk anywhere in the area safely. It's only a 5 minute walk to Feed My Sheep Ministries. It is the perfect location for me. The house is 3 bedrooms, 2 bathrooms so I can have small teams stay at the house, but I can still have larger teams stay at Feed My Sheep.
We spent the day finalizing the rental agreement and the owner is finishing up with some painting and a few things that need to be done before I can move in. We hope to have me moved in by this weekend.
I ask that you all please pray for everything to go well and I am able to move in this weekend. I had a generous donor give me the rent, which is paid by the year not month. But there will be other expenses like installing a power source and hiring security and caretakers. Please pray for the Lord to continue to provide all that is needed.
This morning Pastor Joel and I went to St Marc to go to the bank and check on prices for pillows and mattresses for the orphanages. We took along his daughter, Tabitha, because she needed to see a specialist for an injury to her finger. We also brought along his nephew, John, as security.
St Marc must have been a beautiful city at some point. When I look at all the old buildings I can imagine how beautiful it must have been.
We dropped Tabitha off at the clinic and then Pastor Joel dropped me and John off at the store while he went to the bank. It's just safer that way. John doesn't speak English so I tried to speak a little Creole with him. It went ok, but I think he was a little shy. We had only met once before.
When Joel was finished we picked up Tabitha and went looking for mattresses and pillows for the orphanages. We didn't find any for them. We will try in Port au Prince another time.
In the afternoon we delivered water to Marie Nicole in Troufobon. We moved Marie Nicole's family out there because we partnered with Disciple's Village to find her a place to rent, and it was in the Disciple's Village area. They do not have a well in the area and Marie Nicole would have to go across the busy main highway to get water. This concerned us so Joel bought her a barrel and some buckets to fill with water. Joel goes once a week to fill her water barrel with fresh water so she will not have to go get water herself.
This was the first time I was along to experience it for myself. Pastor Joel puts two big barrels in his truck along with 8-10 buckets all with lids. Then he drives to another ministry called Life Connection where they run water from their well to help the neighborhood people. They allow Joel to fill all the barrels and buckets. He fills the buckets one or two at a time and pours the water into the barrels, plus he fills all the buckets.
Then we drove out to deliver the water. The barrels stay strapped into the back of the truck and they start unloading the buckets and pour them into Marie Nicole's barrel. When the buckets are empty they scoop the water out of the barrels to fill them and haul them to her house, until all her buckets and her barrel is full. They also give some water to a few others in the area. Even Marie Nicole helped carry buckets. We brought them at a good time, Marie's children were all dirty and dusty and she ran out of water to bathe them.
While they were hauling water, I kept the children occupied and out of the way as much as possible. I just pulled out my phone camera and they were entertained.
Then it was round two! We went back to Life Connection and filled all the buckets and barrels again for Pastor Joel's family. Up on the hillside where they live there is no water and no way to drill a well.
This is a lot of work and they do this once a week! It was such an experience to watch this process. Sometimes I forget how much work it is to just have water in your home in Haiti. This is not drinkable water. This is for bathing and washing. Drinking water needs to be purchased separately. Although you can boil it to kill the germs, but then you need charcoal for the fire to heat the water. It's never ending work.
Day 11
WARNING! This post is long! I've been sitting here with my computer on my lap contemplating how do I describe my day today? I guess I'm going to have to settle for calling it a roller coaster day again today. This whole trip has become a roller coaster of emotions.
I felt so much joy and love when I worshipped with my Haitian brothers and sisters in church this morning. It was the first time I had opportunity to do so and it was so nice to be welcomed back with open arms.
After church Pastor Joel and I discussed plans for the week while we waited for lunch. We still hadn't delivered all the food and funds to all the families we sponsor, so after lunch we went to visit them and finish all our deliveries.
I wish everyone of you could go with me. Walking through neighborhoods littered with trash, where a big momma pig lays in the midst of the trash feeding 10 itty bitty babies, and a mother hen is scratching for food with a half dozen baby chicks, while four goats are chasing each other and butting heads. Amongst them are little Haitian children running bare foot and bare butt giggling and playing, yelling, "Blan, blan!" at me when I pass by. Some of them run up and grab my hand, others shyly walk alongside or behind me wanting to be near me but afraid to touch me.
We arrive at a tiny cement block house with a tin roof, Misye Ilfaver lives here with his older sister and brother. He's in his 80's, I have no idea how old the others are. They are always so happy to see us. His sister gets up from her seat and offers it to me! I'm telling her No, no and she's saying Yes, yes! Finally I give in out of respect to her desire to honor me. I'm humbled and blessed.
We hiked up mountains on a full stomach and I can barely make it up while barefoot agile children are hanging on my arms trying to help me along. We get to the top and the family we came to visit is not home. We can't leave the food so we walk back down and go to the next family, knowing this family will not have full stomachs tonight.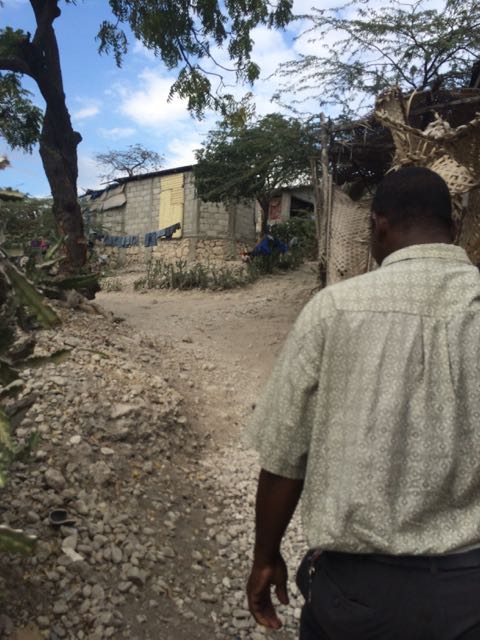 Hiking up another mountain through narrow cactus laden paths we are almost there and we see our sweet widow, Sainthelia. She saw us coming and came down to greet us with big hugs and a beautiful smile. This lady isn't sponsored yet, but we deliver food to her once a month to help her. She showed us the work she has been doing, she has been busting rock to sell as gravel so she can earn a little money. Pastor Joel said he would buy it from her. He said he needs some anyway so he would like to help her out. I love this man's heart!
While we're talking with Sainthelia, her neighbor came out and asked us to help her family. Pastor Joel told me the lady goes to his church. She has 4 children, her last one is 5 months old. She had a stroke 5 years ago and her right side is partially paralyzed. Her husband was put in jail 4 months into her pregnancy and she has been doing everything herself since then. I need to get a sponsor for her. We will return next week to take a picture of the family. We had extra food in the truck so we offered her to come get some. She walked all the way down to get some. She was happy to receive it and kept saying thank you over and over. I watched her walk away back up the trail praying the Lord would provide for her.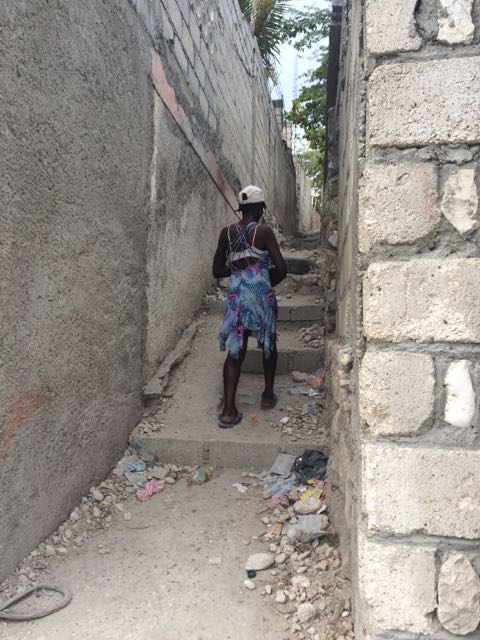 Our last two families were Misye Ruben who is now bed ridden due to his degenerative back disease. He has been receiving monthly sponsorship to help him care for his 12yr old daughter. And 70 yr old Andrena Augustin, who is not sponsored yet, but we deliver food to her. She broke her hip many months ago but was too afraid to go to the hospital because she thought they would cut her leg off. She didn't understand they wanted to repair her hip. She has been laying on the floor on a blanket ever since. She can't even lay in a bed. To see her laying there half naked, so thin and weak telling us she changed her mind she will go to the hospital now… it broke my heart. I think it's too late, I'm sure the bone is fused incorrectly and has not healed properly. I suspect there is nothing they can do unless they rebreak her hip. She only has her teenaged son, who has his own issues, taking care of her. UGH! It hurts to even write this! Out of respect to these people I chose not to take photos. If you saw them the way I saw them, your heart would be hurting too. Oh Lord please help these people!
Then Pastor Joel wanted me to see another guest house that might work for my friend Bettie for a couple days and I'm stunned at it's elaborate beauty! This sits amongst all the poverty. And there are many other houses like this here. The extremes here……
We drove up into another area to see Pastor Joel's friend's place he is building and the views are spectacular!
Finally we ended our day with dropping off some money to Mirlande so she can take her boys to the doctor. As I sat in the truck waiting for Joel, because I just couldn't take another hike up hill, I watched some men from Water 4 Haiti delivering water to the neighborhood. They had big barrels of water on they're truck and were filling buckets for the people in the area because water is scarce there. It did my heart good to see these Haitians helping their own people. I'm sorry this is so long, but I just had to tell you about my day.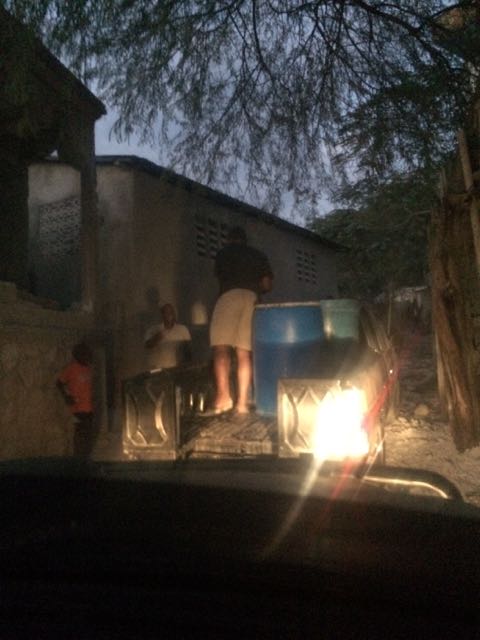 Day 10 What a fun day we had today! Joel and I picked up three ladies at Kaliko that are from a Hautterite community in Canada. They know our friend Bettie Snyder who partners with them on a guesthouse here in Haiti. They know Sam and wanted to go see the orphanages that Sam had helped. We picked them up at 10 am and didn't return them until 5pm.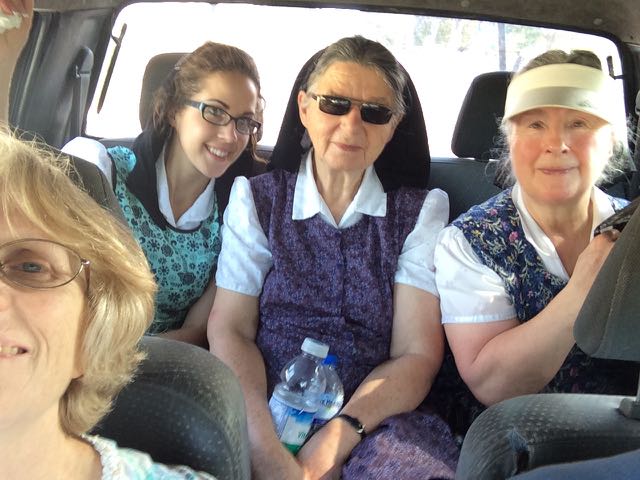 They wanted to bring something special for the children so we picked up bread and bananas for all the children at the orphanage then, buried in food, we headed up the mountain to the Piatre orphanage. I had brought some cups, straws and shampoo to have some bubble blowing fun after they were finished eating. When they discovered we used shampoo for the bubbles, they were going over to the water and washing their hair.
PIATRE Orphanage
When we left them, we went back to Montrouis for a refill of bread, bananas, and shampoo. Then we drove through the valley, over the river and did it all over again with the children at the Pierre Payen orphanage. The children got a special treat and had a blast with the bubbles.
PIERRE PAYEN Orphanage
The ladies enjoyed the children and seeing the orphanages Sam helped all these years. Then as we were driving back, as a last minute thought, we had a vender who sells Haitian artist's work come to where we were and let the ladies buy a few things before they return to Canada. We did this on the side of the road, it was so crazy and fun. The ladies said they thoroughly enjoyed their fun adventure!
Day 9 Well today I spent most of the day at Feed My Sheep ministries. Our truck was in repair almost all day again. Pastor Joel and I met with people here. Then we walked around the neighborhood a bit. I love that I can walk just 5 minutes and be at the ocean from here.
We have some good news, Madam Julio had her baby! She had a beautiful baby boy. His name is Eliezer. After the truck was repaired we went over to visit her family. Eliezer's big sister Ania is blossoming and becoming such a sweet child. She really loves her baby brother too. Can you spot the photo bomb?
Tomorrow we take a few friends of Bettie's to visit the orphanages. If the truck keeps running! Please pray for a new truck for us. This one has had it! It's been an old faithful friend to Sam and I but it is time to put it out to pasture!
Day 8 Well today was definitely different! Pastor Joel, Roosevelt and I went to the 5th Annual Buy Haitian, Restore Haiti conference. It was held at the Karibe Hotel in Petionville. I want to buy more Haitian product, but the real reason I went was because I have been looking for ideas on how to help the older orphan children and the parents of the sponsor families earn a living. Pastor Joel has a passion to start a trade school and we already have the Tools for the Trade pro
gram. But I wanted to find out how to help them either start their own business or find employment in Haiti. I wasn't sure if I would find that there, but I felt we really needed to go. I took Roosevelt along because, even though he is now a lawyer, he has a passion for restoring Haiti through reforestation. All three of us came away from the conference pleased with what we heard and learned. I have some connections now that I can pursue too. Along with good speakers there were booths of Haitian businesses and NGOs offering information and selling some of their product. I came away with a nice little stash of goodies, all Haitian produced! It was a long day, we left at 6:30am and got home at 8pm, but it was well worth it. We will probably go again next year.
Day 7 Today was all about solar power! We borrowed
Chuck Young
our US expert on solar from Alex's House Orphanage, and grabbed
Guerschom Olivier Charles
our Haiti solar expert and took them to Pierre Payen orphanage to discuss putting in solar for the orphanage. They have NO electricity right now. The place isn't even wired for electricity. It has become unsafe for the children to go out to the bathroom in the dark as there has been strangers wandering around there. So we wan
t to light up their world! I asked Chuck to give advise on usage, and Guerschom had already been there once and had written up a very well done detailed list of everything we would need to put in a system that would give them all the power they need. My knees went weak when they told me a rough guess at how much it could cost! But we have a generous God and He can give us anything he wants. This is the beginning stages and I'm not sure when the system will be in. When we price the panels and other things, I will share that cost with you, if you would like to help them have power. There is a good chance the team coming in February will be installing some of the wiring.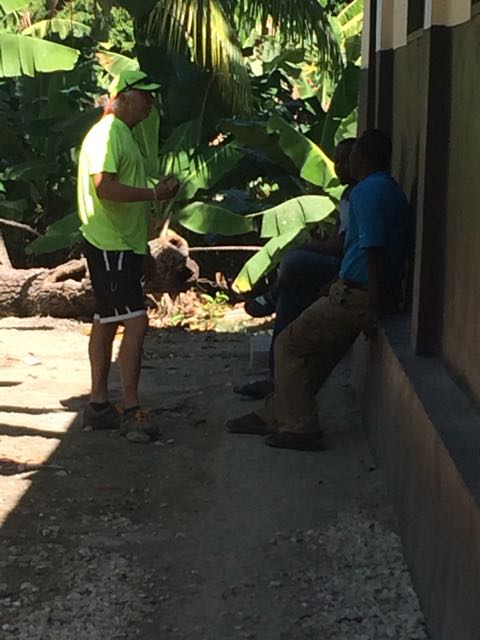 While men talked electrical stuff I didn't understand, I slipped away for a bit and enjoyed talking with the children in the little school at the orphanage. I got to use my limited Creole to have a simple conversation with them!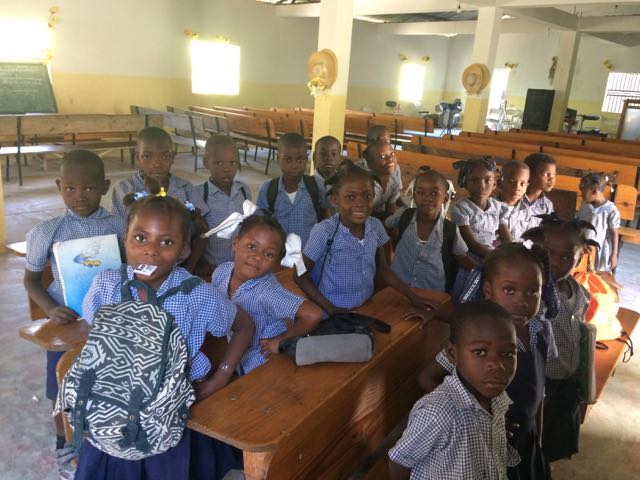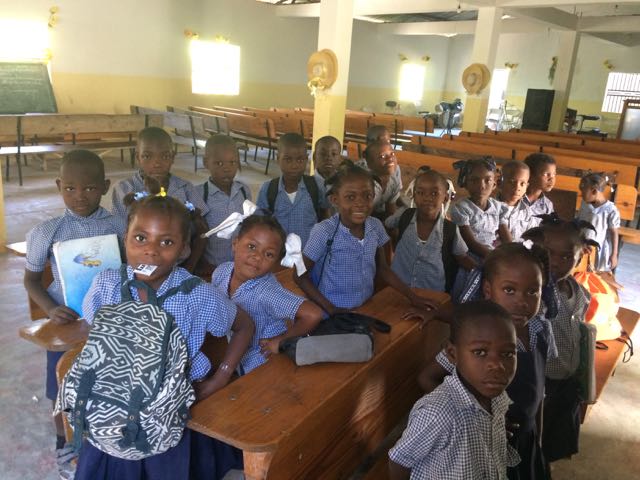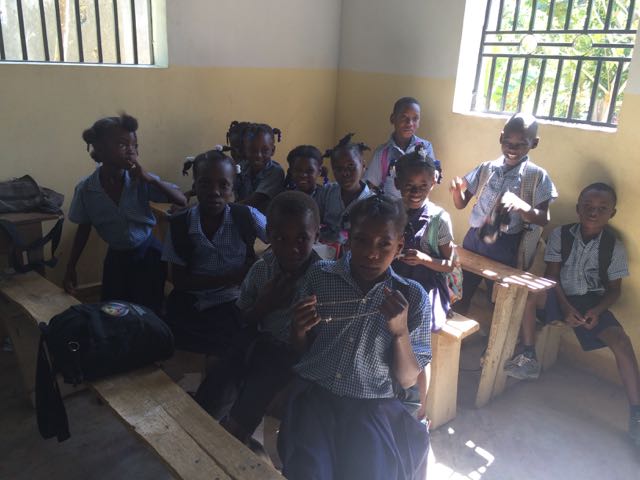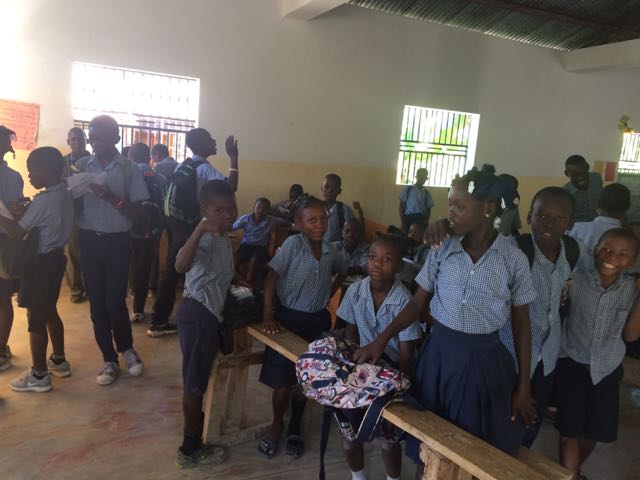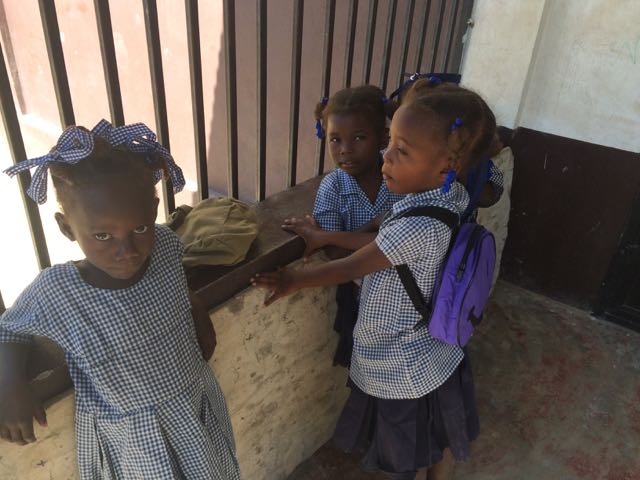 Jesmy, one of the boys at the orphanage, can play drums well, but he had been playing with carved pieces of a tree branch for sticks. I had promised him I would bring some real drum sticks next time I came. So he was very happy to see I remembered and went to work playing right away!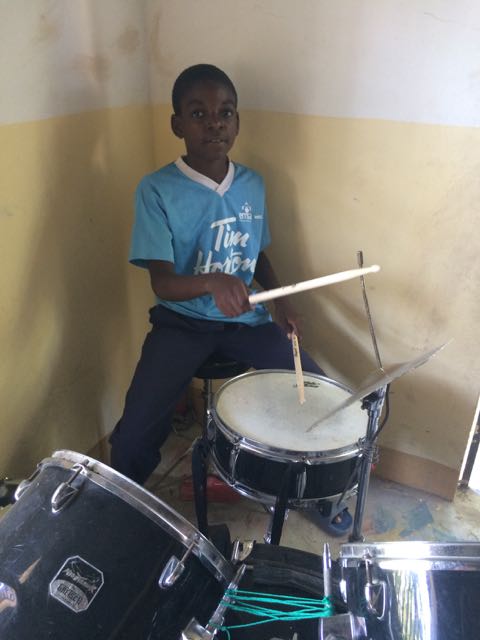 After we returned Chuck to Alex's house, Pastor Joel Museau and I went to visit my dear friend Bettie Snyder. We also had the pleasure of meeting some of the people who own the beautiful place Bettie is managing. We made a plan to take some of the ladies to visit the Piatre and Pierre Payen orphanages on Saturday. Bettie and I spent a good long time talking and catching up. Bettie is in her 80's and has been a missionary in Haiti since 1968. I love to hear her stories!
For those of you who don't know, I am staying with Feed My Sheep Ministries here in Montrouis. They have merged with House of Bread ministries and Richard N Bev Felmey live at the top of a huge three story building. The stairs give me a thorough cardio work out and my legs are burning by the time I hit that last top step. I must take those stairs at least 5-6 times a day because I can't seem to remember to take everything I need down the stairs. Or I realize I need something upstairs when I am downstairs. Well, you can't say I'm not getting my exercise here!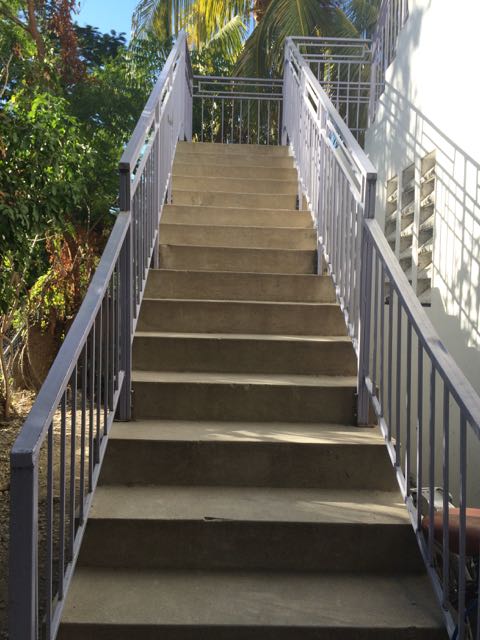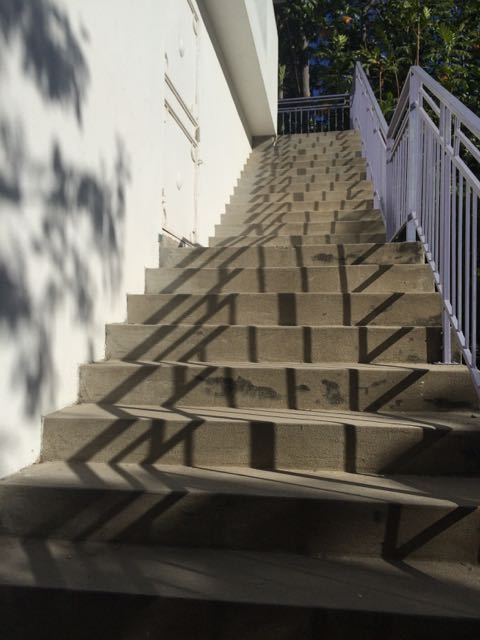 Tomorrow we will be in Petionville all day at a conference on creating jobs for Haitians. It looks promising!
Day 6
This trip is becoming like a roller coaster ride, up and down and all around! This morning the truck had to be repaired…again! The starter was going. So I spent the morning praying. Which was good, I had plenty to pray about!
Pastor Joel came by after leaving the truck with the mechanic so we discussed different things.
On the up side, we met with a young man, Edisson, who has been trying to finish his schooling so we can get him into college. The last year of "high school" here, called Phylo, is a special very difficult year. The exam is difficult to pass. Edisson was unable to pass so he has to repeat the grade. But what I was happy to hear is that it is not just "do it again," but he is in a special class where they help the students who are repeating the grade to study and learn the parts they did not learn well the first time. This class is held in the late afternoon evenings so he is able to work during the day. He expressed an interest in plumbing so we were able to get him into a sort of apprentice type job. He is working with a plumber for free and the plumber is training him for free. Edisson is doing very well in both. He is one of the ups of the day!
On the down side, I had to let go one of my employees today. He has been very irresponsible and not showing up for work or very late. I had given him many chances, but I felt I could no longer work with him. I love and care for him and want to continue a relationship with him, I just can't work with him. That was very sad and difficult for me to do.
On the up side I met with another young man, Rayneau, who's family in the south had their home destroyed from the hurricane in September. We were able to raise some money to help his family to rebuild a small home for them. It's always nice to be able to give out funds to help someone in need. He also gave me a name of the pastor in the area so when we are able to go back again we can contact him and bring food and clothing to distribute to the community there.
On the downside, because it took so long to fix the truck, we were not able to get the little boy with asthma to the doctor yet. Please pray we are able to get him there tomorrow.
I'm sorry I don't have any pictures to post. I didn't take a single photo today. Tomorrow we go to the Pierre Payen orphanage to evaluate what it will take to install a simple solar system so they have some power. I promise to take pictures!
Day 5 Today was a bittersweet day. This morning Pastor Joel and I prepared all the sponsorship envelopes and food bags to be delivered to the sponsor families. Then after lunch we went around all afternoon and into the evening visiting families and delivering the food and funds. This is always a blessing even though we are hiking all over the place. Seeing the families' progress every time I come is so rewarding. They usually look healthier and happier just because they are able to eat every day. It's always a joy to visit with them.
But some families are not doing so well. I couldn't take a picture of the Milot family because it was dark by the time we got to their place. Both of the boys are sick. One has asthma very bad and can't breath at night, the other has an obstructed bowel. We are going to try to get them to the doctor for treatment.
Our last stop for the night was Madam Antoine. She is working for someone who has not paid her for over a year. I asked, if I can rent her a new place farther away and get her a job that will actually pay her regularly, would she leave? She said no, she's afraid of what he would do to her. She is afraid to leave the employer for fear that he will curse her or her family and they will get sick or die. This is an example of how voodoo can cause ignorant people to be fearful. It doesn't mean anyone is doing voodoo. Just hearing some one curse someone else causes such fear and it is attributed to the power of voodoo. Our God is so much more powerful than any curse. Even though we tried to explain the power in the blood of Jesus to her, she is ignorant and fearful. I can do nothing to convince her and this breaks my heart. She is in bondage to this person. In a case like this I feel so helpless. I have to put her in the hands of Jesus and pray for Him to open her eyes. Please pray for healing of the Milot boys and please pray for Madam Antoine to be set free from her fears and the bondage.
Day 4 Sunday
Today is the Lord's day, a day of rest. I had plans to go to a special celebration at a friend's church this morning, but those plans did not work out. So I stayed at Feed My Sheep and did my own worship and prayer. Then I went with
Richard N Bev Felmey
to have lunch at Stop Over restaurant and then went with them to the missionary meeting in the afternoon. It was very nice to spend time with other missionaries that have the same heart for the Haitian people. I enjoyed my time with them. Tomorrow I will be visiting the sponsored families to see how they are doing.
Day 3
Day 2
My first day back in Haiti is always a day of talking through all that has happened since I was here last. Some good news and some sad news. You do your best with every situation, but ultimately it's up to the individuals to make the right decisions. One sad bit of news, I learned that one of the older boys from the Piatre orphanage has left, and not on good terms. I will be talking this through with the pastor and the young man.
One good news I can share, I have been told that a generous donor wants to help get a solar system put in at Pierre Payen orphanage! That was the big project I was wanting to see if we could get done while I was here this trip! I hadn't said anything to this person about it yet. I was going to get experts to take a look at the orphanage and give me an estimate on what we need and approximate cost. God is way ahead of me on this!! I'm so excited because this is definitely of the Lord! He put it on both of our hearts and we hadn't spoken about it to each other! That's our GOD!
I'm staying at Feed My Sheep Ministries new headquarters. The compound they are now running is large and it has a school connected to it. We sat and enjoyed watching the children line up for school, sing their national anthem AND PRAY before they went in to their classrooms.
Their unit is up three flights of stairs and I'm getting a good cardio workout but my legs burn by the time I get to the top. There is a nice breeze that flows through their place all day long. The weather has been so nice and cool here too. So cool in fact that I was cold sleeping last night! I don't recall ever being that "cold" in Haiti! Bev gave me a blanket if I get cold tonight.
Day 1 of 2017 Haiti Trip Adventures.
And the 2017 Haiti adventures begin! I was given a nice donation to buy sheet sets for every child in both orphanages! With the help of my sweet, fun and adventurous friends, Carol Jaeger and Terri Krehbiel, I was able to buy 46 twin sets plus two queen sets for the Pastors too! Terri's Toyota Corrola was jam packed with luggage and sheets! We had a sheet packing party to remove all the extra cardboard and then pack them into suitcases. Then they drove through the rain
to take me to the airport. Oh and I got my hair cut too! Now I sit and wait for my flight to Florida then to Port au Prince, Haiti. This will be a long stay this time, 6 weeks. There is so much I am hoping to accomplish. A team of 6 led by my husband, Scott Schmeckpeper, will be joining me for the last part of this trip. We would all appreciate your prayers. I will keep you posted as the adventure progresses.